Adult Education Department
Welcome to the College and Career Readiness Institute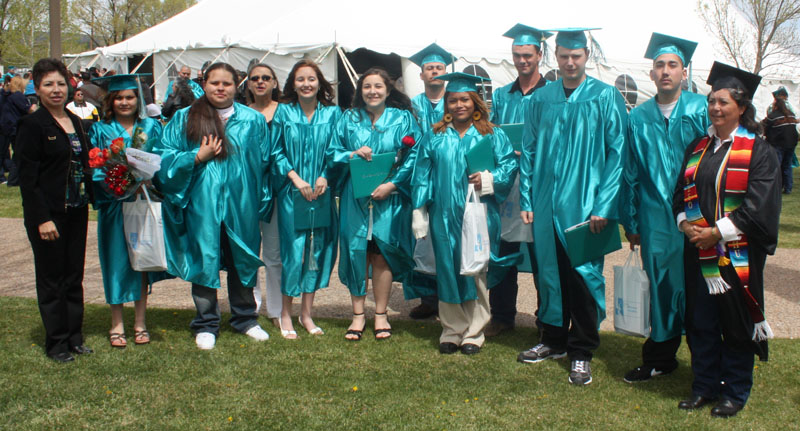 History of the Equivalency Diploma
In 1942 the High School Equivalency (HSE) test, previously known as the "General Education Development (GED)" test, was offered only to World War II Veterans since they were sent overseas to fight the war before completing their high school education. Over time, the equivalency test was offered to civilians who were unable or unwilling to complete a traditional high school education. Today, the HSE test is offered nationwide and is recognized at higher learning institutions as well as within the global workforce.
Vision Statement
The College and Career Readiness Institute at Luna Community College is committed to excellence in academic achievement and personal growth while providing a basis for students to become life-long learners and productive, responsible citizens.
College and Career Readiness Institute
The LCC Adult Education Department offers its College and Career Readiness Institute to adults, 16 years of age and older, who want to obtain their High School Equivalency
(HSE) Diploma. The College and Career Readiness Institute is offered to residents of rural areas within San Miguel, Mora, Colfax, and Guadalupe counties. Adult learners are
presented with so much more than preparing to take the HSE test to obtain their secondary school equivalency diploma. The College and Career Readiness Institute can also help interested adults with:
Refreshing reading, writing and math skills for high school graduates. (Adult Literacy: Foundational Instruction)

Building foundational computer skills, employment research, resume writing, and job interview techniques. (Career Pathways)

Entering or retaining employment. (WIOA Partners: Workforce Referrals)

Entering LCC Degree or Certificate Programs. (Postsecondary Education and Training)

Building English-language reading, writing and speaking skills. (English as a Second Language)

Enrollment
The College and Career Readiness Institute at Luna Community College opens its enrollment to prospective adult learners at the beginning of each school year in August. The Institute provides multiple opportunities throughout the school year to enroll into any one or more of its eight (8) week learning sessions. The sessions are provided twice during each the Fall and Spring Semesters and once during the Summer Semester. Prospective learners can contact the Office of Adult Education for the next available Orientation and Enrollment Session or see the scheduled dates and times provided below. The College and Career Readiness Institute understands that not everyone can attend classroom instruction; therefore, the Institute also provides evening and online methods of instruction.
College and Career Readiness Institute: Orientation & Enrollment Sessions
Class Schedule for Spring 2020 Session 1
Site Location
Contact Information
Rock Ulibarri / Director
Phone: 505-454-2531
rulibarri@luna.edu

Lisa Bentson / Advisor
Phone: 505-454-2564
lbentson@luna.edu
Office Hours
| | Open | Closed |
| --- | --- | --- |
| Monday - Friday | 8 a.m. - 5 p.m. | Noon to 1 p.m. |
| Saturdays and Sundays | Closed | Closed |
Statement of Nondiscrimination Policy
LCC is in compliance with Title VI of the Civil Rights Act of 1964, Title IX of the Amendments of 1972, and Section 504 of the Rehabilitation Act of 1973. LCC does not discriminate on the basis of age, race, color, national or ethnic origin, handicap, religion, or sex in its policies, practices, or procedures. This provision includes, but is not limited to, admissions, employment, financial assistance, and educational services.
Student Forms