Board of Trustees Information
LCC Board Policy Manual
LCC Board Notices and Agendas
BOT Meeting Minutes
Approved LCC Board of Trustees Redistricting Map
BOT Committees
---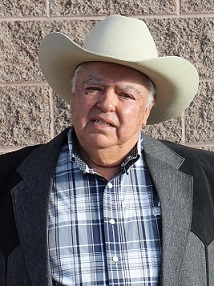 Dr. Gilbert Sena is the newest member of the Luna Board of Trustees representing District 7.
Dr. Sena earned a doctoral degree in Philosophy in Curriculum and Instruction from New Mexico State University in 1997, a Master of Arts degree in Special Education from in 1987 and a Bachelor of Arts in Business Education in 1979 both from New Mexico Highlands University. He earned a certificate in Business Clerical from Luna in 1975.
Dr. Sena has had a long and distinguished career as an educator. He served as interim president of Luna in 2006 and 2007 and was the dean of student learning and support services at Luna from 2001-2006. His educational career began in 1979 as a teacher for the Maxwell Municipal Schools. He also taught at the New Mexico State Penitentiary for two years and was an instructor at Luna from 1984-1992. From 1992-94, Dr. Sena was a teaching assistant for the College of Education at New Mexico State University. From 1994-1996, Dr. Sena was a coordinator for student teachers at New Mexico State University. Dr. Sena was also an adjunct professor at Western New Mexico University, Highlands University and the College of Santa Fe from 1995-2004.
Dr. Sena also served as Chair for Luna's accreditation process in 2004, including writing the self-study report and preparing the college for Higher Learning Commission's on-site visit, which ultimately led to the college earning the maximum 10-year accreditation. Subsequently Dr. Sena was appointed to the Peer Review Corp by the Higher Learning Commission, which involves performing accreditation on-site visits to colleges within the North Central Association's 19 states. Some of his other job titles in education include education consultant for the New Mexico Department of Education, coordinator/compliance specialist at Santa Fe Public Schools, coordinator of the Comprehensive School Reform Demonstration Program with the New Mexico State Department of Education and director of the Youth College Program at Luna.
Dr. Sena is a published author and has written several research papers and served as the Issue Assistant Editor for Rural Special Education Quarterly (RSEQ) an international publication entity headquartered at NMSU. Dr. Sena was honored by the college of education at NMSU in 1997, when his dissertation was selected as the Distinguished Dissertation of the Year.
Dr. Sena is a veteran of the U.S. Army serving during the Vietnam Era.
Dr. Sena and his wife Jeanette live in Serafina. They have three children and six grandchildren.
Dr. Gilbert Sena
gilbert.sena@board.luna.edu
District 7 Representative
West Las Vegas Schools District
---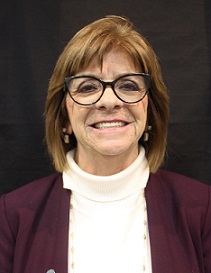 Represents District 5 and serves as the Vice Chair of the LCC Board of Trustees. Mrs. Medrano is presently a business women, owner and manager of rental properties in the Las Vegas and Pecos, New Mexico area. She is retired from LCC where over 25 years she was the director of job placement and later in her career became the ACCESS Center Director overseeing career services, tutoring, testing, development of employment sector partnerships, student work-study program, student advisement and various other duties. During her employment she increased student job placement rates, implemented the first job placement career fair, college night, business attire fashion show, hair show, and student orientation kick-off. Mrs. Medrano additionally implemented the first Luna Light student paper, student handbook and the LVTI assessment study. In 2004, Mrs. Medrano was appointed to the LCC Accreditation Team at which time the institution was awarded the maximum years of accreditation.
Additionally, Mrs. Medrano has served in various committees within the institution and in the employment sector.
Mrs. Medrano earned her degree in social work from New Mexico Highlands University and was also a Licensed NM Mental Health Counselor.
Quote from Mrs. Medrano, "As an LCC Board of Trustees my job is very clear and that is to eliminate barriers and open doors of opportunities for a rising new generation. Clear the pathway to those doors and empower an innovative generation to expand their learning, achieve their goals and go further than any generation has gone. LCC provides highly qualified and experienced faculty and staff that strive for academic excellence and care about the education that LCC students receive. I am proud to serve as a board of trustees in such an outstanding institution
Dianna Medrano
dianna.medrano@board.luna.edu
District 5 Representative
Las Vegas City Schools district
---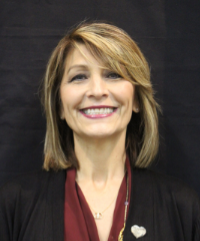 Louise Portillos began serving on the Luna Board of Trustees in January 2020.
A Cimarron High School graduate, Portillos earned three degrees from Luna — the first in liberal arts, the second in teacher education and the third in office administration. Portillos was the Luna Springer Satellite director for nearly 13 years, retiring in 2014. She is currently a substitute teacher at Springer Municipal Schools.
Portillos is a Eucharistic minister at St. Joseph's Catholic Church in Springer. She has served on the Springer Chamber of Commerce for 20 years, two as president. In addition, she has served on the Raton Chamber of Commerce and the GrowRaton Committee. Portillos also served on the CDBG and lodgers tax board in the Town of Springer.
Portillos is married to Robert Portillos and has two children, Shawn Fernandez (wife Jan) who reside in Denver, Colo., Tamara Grayson (husband James) and three grandchildren, Aryiah, Aryana, and James who reside in Midland, Ga.
"Luna Community College is a vital educational institution for northeastern New Mexico," said Portillos. "Luna Community College truly follows its mission statement "Creating Opportunities for You," especially for those living in economically challenged communities such as Springer, Santa Rosa and Mora. Luna opens doors for students who might not normally pursue higher education, and as a result, positively affects not only students but also our communities."
Louise Portillos
louise.portillos@board.luna.edu
District 6 Representative
Springer, Wagon Mound and Maxwell Schools district
---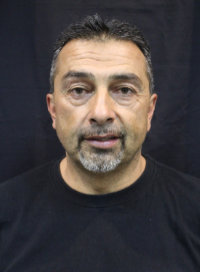 Mark Dominguez has been a member of the Luna Community College Board of Trustees since August 2018. Dominguez' family is living proof that Luna is a great school to begin your college education. One of his sons graduated from Luna and he went on to earn a bachelor's and master's degree from Highlands University. Another son took dual credit courses during his junior and senior year in high school at Luna, and it prepared him for Highlands University.
Dominguez has owned and operated J.J. and Sons Excavations and Decorative Concrete for 24 years. Dominguez, 47, is a 1989 graduate of West Las Vegas High School. He has three children.
Mark Dominguez
mark.dominguez@board.luna.edu
District 2 Representative
West Las Vegas Schools district
---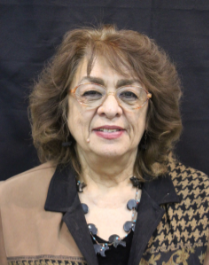 Dr. Phyllis S. Martinez began serving on the Luna Board of Trustees in January 2020.
A Mora High School graduate, Dr. Martinez earned her doctorate in educational leadership from the University of New Mexico and her master's from New Mexico Highlands University.
Dr. Martinez is currently an executive director of the court appointed special advocates (CASA) 4th Judicial District. She has also been a high school, middle school and elementary school principal at Mora and Peñasco Independent Schools and a middle and high school teacher at both Mora Independent Schools and West Las Vegas Schools. In addition, she has been an education administrator/monitor for the New Mexico Public Education Department's Bilingual, Corrective Action/Priority Schools and Reading bureaus. Dr. Martinez has also worked as an adjunct professor at Highlands University and Northern New Mexico Community College. She is a CASA volunteer and lector in both English and Spanish at St. Gertrude Catholic Church in Mora.
Dr. Martinez and her husband John have three sons, Gary (wife April), Greg (wife Rosalie) and Scott (wife Jeannean); six grandchildren and seven great-grandchildren. Dr. Martinez has 3 brothers and one who died in Vietnam.
"Luna is an extremely valuable asset in the communities it serves," she said. "It is an essential step in the lives of so many students whether for dual credits, certificates or associates. In addition, Luna has given second careers to many area residents. Luna Community College is critical for the economics of the area, both for LCC employees and local as well as regional businesses. Its importance for so many cannot be overstated."
Dr. Phyllis Martinez
phyllis.martinez@board.luna.edu
District 3 Representative
Mora Independent Schools district
---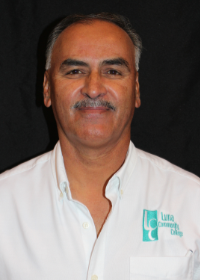 Kenneth Medina began his second term as a board of trustee in January, 2020. Mr. Medina was employed as the Facilities Manager for the West Las Vegas School District for twenty-nine (29) years and served on the San Miguel County Commission Board for eight (8) years and is currently retired. Mr. Medina has been a musician for many years and has played for numerous benefit dances for those in need.
Kenneth Medina
kenneth.medina@board.luna.edu
District 1 Representative
Las Vegas City Schools district
---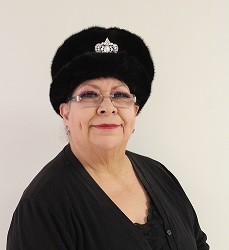 Ms. Rosalie Ortega has extensive experience at the community college level.
Ortega was a faculty member at Luna Community College for 11 years. Ortega taught cosmetology at Luna's main campus for five years and taught barbering at the Santa Rosa Correctional Facility for six years.
Ortega is well known for her voluntarism. Ortega has sat on boards and commissions for the Santa Rosa Chamber of Commerce and was part of the church council at Saint Rose of Lima Church in Santa Rosa for several years. Ortega has also been active in the San Isidro Mission Church in Borica starting alongside her parents and other families.
While at the chamber, Ortega moved to vice president, chairperson and past president and continued to fill in for members that were not present. During her time at Chamber of Commerce, Ortega put on an annual banquet. One of the highlights was bringing in one of the first air balloonists to Santa Rosa. Ortega was instrumental to bringing in the Guadalupe County Correctional Facility. Ortega also served on the Santa Rosa City Council for over six years where she had a stint as Mayor-Pro Tem. As a council member, Ortega served in several state committees. Ortega also served as president of the Multi-Use Center Board and was instrumental in building the rodeo arena. She also served on the Guadalupe County Fair Board and was part of the first County Fair that continues be very successful. Ortega has spearheaded many banquets and socials attended by several high-ranking officials from throughout the state. Among the state officials were several governors.
Ortega has also raised money for children in the Santa Rosa area and participates in farmers markets.
Ortega ran unopposed and was recently elected to a six-year Board of Trustees term.
Rosalie Ortega
rosalie.ortega@board.luna.edu
District 4 Representative
Santa Rosa Schools district
---
---