NMJC holds off Rough Riders on diamond
April 2 2019
---
By Dave Kavanaugh
New Mexico Junior College continued its quest for its league baseball title at the expense of Luna over the weekend, turning the visiting Rough Riders away in a four-game series held in Hobbs.
The Thunderbirds kept their win streak active in going to 22-9 overall, two games out of the lead. The Rough Riders fell to 3-30.
Game scores were 15-2 and 11-1 on Friday, 3-1 and 17-7 on Saturday.
Luna led 2-0 early on in game one, only to watch the T-Birds answer with a five-run first and a six-run second. Dustin Sipe (freshman, Aztec, N.M.) crunched a two-run homer for that early lead, and Seth Olguin later doubled.
In game two, Ben Smith scored in the top of the third off Sam Creed's single to cut the T-Bird lead to 3-1. Then NMJC retaliated with a five-run fourth en route to a six-inning win.
Olguin and Spencer Heyden had doubles for Luna, which was held to five total hits by T-Bird ace Jairo Vasquez (3-1).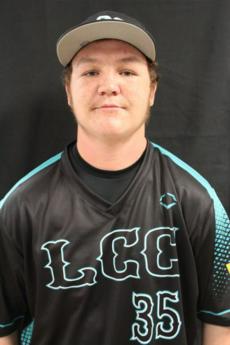 Game three nearly saw the Rough Riders break through, thanks to solid pitching and defense. Olguin went five and one-third innings and held NMJC to three runs – one earned – on eight hits and three walks. And closer Dylan Begay didn't allow a baserunner in getting two outs.
But the T-Birds were up to the task. Brayan Garcia Diaz yielded six walks but allowed just one hit and one run with two strikeouts in four and two-thirds innings before turning the ball over to Mark Barillas, who fanned two and allowed just one hit in recording a save. The Birds also turned three double plays in limiting Luna to three team hits. Creed did steal two bases.
Luna stayed close and then rallied to take a 7-6 lead midway through the sixth in the series finale. Then the T-Birds stole the show with an 11-run outburst in the bottom of the inning.
Louis Reyna hit 2 of 3, and Nick Rodriguez drove in two runs to lead the Riders.
Luna is slated to host Frank Phillips College on Friday and Saturday at Fort Marcy Park in Santa Fe.