Springer Future Rough Rider's Summer Program a success
June 9 2023
---
The first of four LCC Future Rough Riders' Summer Programs was held in Springer from May 30 - June 2. Eleven students signed up and participated in a variety of activities including "Found Sound" with Dr. Billie Mathews, River Health with Rachael Lucero, visits to the Mills Mansion and the Santa Fe Trail Museum, and many other projects including
Lego design, constellations, and jewelry-making. Lunch was provided by Zayra's Cafe of Springer. At the end of the program, parents gathered for a "Found Sound" concert in the Luna auditorium on Friday afternoon at the Springer satellite. For the second week of the Summer Program, the Mentorship Program's education team will be in Las Vegas at the main campus.
For more on what the children did, please visit the mentorship TikTok channel at #lunamentorship.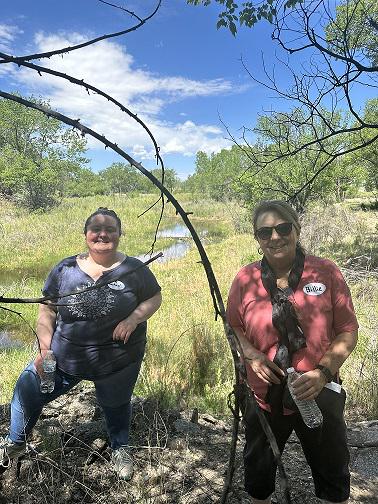 Visit to the Santa Fe Trail museum where students were asked to find something that interested them, gather information, and then report back to the group. (L to R) Esperanza Tafoya, Lorelai Perez-Tafoya, Matthew Montoya, Reina Garcia, Micah Acosta, Isabella Trujillo, Katherine Collins, Jaycee Apodaca (in front in white), Asaiah Encinias, Stephanie Garcia, Billie Mathews, and Jordan Romero.