Luna auto collision repair program benefits from software upgrade
April 12 2019
---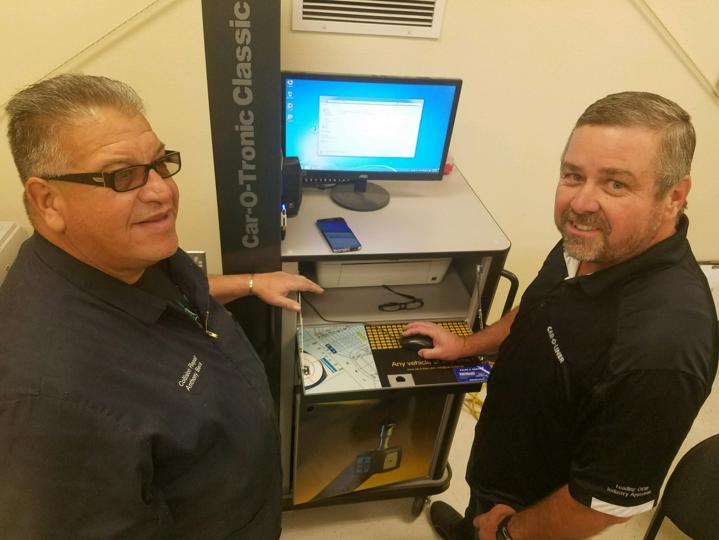 Car-O-Liner representative Bob Hefty recently visited the Luna campus to install a software upgrade for use in the college's automotive collision repair technology program. Luna was able to acquire the software upgrade after Luna instructor Anthony Baca made contacts at the Specialty Equipment Market Association convention this past fall.
"The updates Car-O-Liner software and equipment is an integral part of the Automotive Collision Repair Technology Structural Analysis course," said Jessica McGee, director of Luna's Vocational Studies department. "Students will also take part in a Car-O-Liner training during the fall 2019 semester that will allow them to become certified in the use of the analysis software and equipment."
The installation took place on April 2.
Baca helped land the software upgrade while participating in the 2018 SEMA Show, held Oct. 30 to Nov. 2, 2018, in Las Vegas, Nev. The event, which SEMA describes as "the premier automotive specialty products trade event in the world," showcases thousands of products and provides attendees with educational seminars, product demonstrations, special events, networking opportunities and other activities.
Luna Community College offers a certificate in automotive collision repair technology. The program covers various aspects of auto body repair, metalworking, plastic repair, panel replacement, restoration, refinishing, custom refinishing, structural repair, damage estimates, student portfolio design and collision repair shop management. The program follows Automotive Service Excellence and National Automotive Technician Education Foundation curriculum standards, and it can be applied toward an associate degree in vocational and technical studies.
For more information on the program, those interested may call 454-2500 or visit www.luna.edu.