Luna softball sweeps Frank Phillips College
April 15 2019
---
With one memorable series, the Luna Community College softball team pumped its win total to double digits, sweeping Frank Phillips College in four games at West Las Vegas field.
The Rough Riders need another strong effort this coming weekend in Odessa, Texas, if they are to have a shot at postseason play. But Thursday and Friday gave Luna and its supporters a reason to smile.
On Thursday, Luna won 17-8 and 9-0, with Dominique Guidry securing the pitching shutout in game two after allowing just two hits. On Friday, the Riders took game three 13-2 and game four 17-11.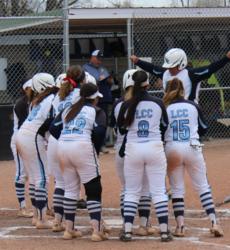 Frank Phillips led 1-0 midway through the first and 5-3 midway through the second before Luna pulled away for good with six runs in its half of the frame. Shannon Ortiz settled in to keep the Plainsmen in check and got good run support: Sabrynn Chacon (3 for 3, one home run, one double, four RBI), Aiyana Gonzales (3 of 3, including an RBI triple), Ashlea Ortega (3 for 3, three runs), Rebekka Montgomery and Brittany White all had multiple hits in the 17-8 win.
Guidry shined in the pitcher's circle in game two, yielding two singles with three strikeouts and two hit batters. White launched a solo home run in the third to make it 3-0; she also hit two RBI doubles. Andrea Hernandez accounted for four RBI and had a triple and double in going 2 for 4. Ortega hit 3 of 3 for the second game in a row, and Gonzales and Dyani Cummings-Lani added two hits apiece.
In game three, the Plainsmen put the first two runs on the board in the top of the second. But after that it was all Luna. Montgomery got things going with a two-run double. Cummings-Lani, Taylor Quintana and Gonzales hit RBI doubles as well, and Ortega and Hernandez added RBI singles in a seven-run second inning for the Riders. Luna added a run in the third and four more in the fourth while Cummings-Lani denied any further FPC scoring. Cummings-Lani (4-6) finished with one earned run allowed on two hits, one walk and one hit batter; she struck out two. Ortega, Quintana and Gonzales had two hits apiece; eight Luna batters had at least one hit each.
Taylor Quintana homered twice and Emilia Hawbaker homered once to lead Luna to a 17-11 victory in a competitive finale. Quintana's solo home run – her second long ball of the game – gave Luna an 8-4 advantage in the second inning. FPC tied the game 9-9 in the top of the fourth, but Gonzales' RBI hit restored the lead, and the Riders soon loaded the bases. Cummings-Lani, Emilia Hawbaker, Chacon, Ortega, Hernandez and Quintana all plated runs and the margin reached 17-9. Quintana drove in four runs total in going 3 for 4 with two home runs; Hawbaker also notched four RBI, hitting 2 for 4. Cummings-Lani, Hernandez and Montgomery had two hits apiece in support of Guidry's second win of the weekend, a six-strikeout appearance in three and two-thirds innings of relief.
Luna improved to 10-23 overall and 4-12 in Western Junior College Athletic Conference play. The Riders play at Odessa College on Friday and Saturday.
Clarendon College twice had to overcome a sturdy challenge from Luna Community College on the baseball diamond in a four-game series this past week at Highlands' Brandt Park.
On Thursday, Luna held leads in both ends of a doubleheader before succumbing 11-8 and 8-7. On Friday, the visiting Bulldogs asserted themselves more with 18-2 and 12-3 wins.
Luna led game one 3-0, had it tied 5-5 through five innings, and trailed just 8-7 going into the final frame. Sam Creed (3 for 4, two doubles, one walk, two RBI) and Seth Olguin (2 of 4, one home run, three RBI) paced the Rough Riders at the plate. Nick Rodriguez and Dustin Sipe had two hits each. Cooper Randall had a solid pitching start, going five innings and allowing five earned runs on six hits and two walks.
The Rough Riders got even closer in game two, battling back from 7-0 and 8-3 deficits with two runs in each of the seventh and eighth innings. But Clarendon's pitching staff and defense combined to limit Luna to six hits – two by Trent Dewyer. Creed and Patrick McGee drove in two runs apiece. Keaton Christy's four and one-third innings of middle relief were a highlight, as he held the Bulldogs to six hits and one walk in that span. But the one score he gave up was a home run that tipped control to the visitors.
In Friday's early game, Clarendon scored the first seven runs and exploited four Luna errors to put it away, getting a five-strikeout effort from pitcher Kevin Miranda. For Luna, Rodriguez had a good game – hitting 3 for 3 with a triple and a double and one RBI.
If not for a six-run outburst in the top of the third by the Bulldogs, the finale would have been a fairly tight battle. Again, Clarendon's pitching and defense tripped up what has been a productive offense. Creed had two of Luna's four team hits. Luna did show patience at the dish in earning nine walks.
Luna is scheduled to host New Mexico Military Institute on Thursday and Friday at New Mexico Highlands' Brandt Park, with first pitch at noon each day.