Ortegas, Roybals share gift of music with Luna students
April 26 2019
---
Students in Juan Ortega's Beginning Spanish I class at Luna Community College were treated to a live music performance this past Thursday, April 25.
Ortega – an acclaimed music artist who has recorded multiple albums and original compositions – joined his daughter Brenda, Dr. Anita Roybal and husband Eloy in performing several traditional Spanish songs commonly performed in church and other spiritual settings. Eloy Roybal, who is an ordained deacon in the Catholic Church, provided students background information on each of the songs and their cultural significance. He, Juan Ortega and Brenda Ortega – who, like her father, is an award-winning music artist – sang and played guitar. Anita Roybal, who is director of Luna's department of humanities, sang and played accordion.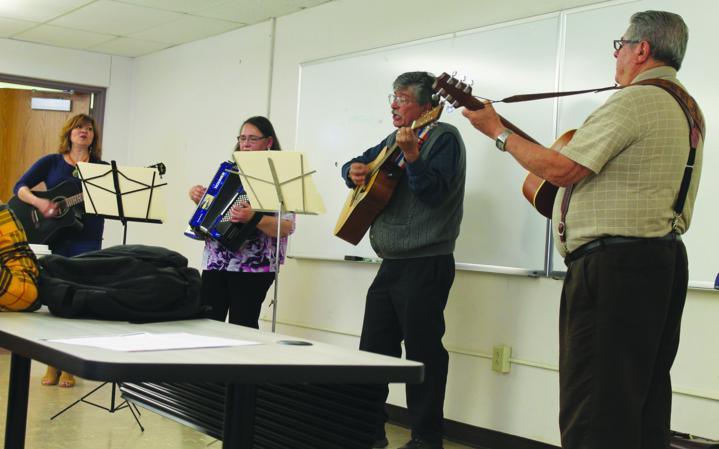 The Roybals, both of whom earned bachelor's degrees in music, have been involved with music in their church in Mora and throughout the state for more than 45 years. This includes teaching general music, choir and band in grades K-12.
"We then became administrators, going from teaching to being principals to being superintendents in five different school districts in New Mexico, including Mora," Dr. Roybal said. "Even when Eloy was a superintendent, he taught band to his students."
"We both feel, as does Mr. Ortega, that we need to keep our language and traditional songs de los antepasados (of our ancestors) alive through teaching it to our students," she said.
Juan Ortega continues to perform, continuing a celebrated decades-long career as a musician, singer and songwriter. Brenda Ortega, director of the Luna department of education, is also a longtime singer and musician who has won New Mexico Hispano Music Awards.