Daughter, father share graduation
May 13 2019
---
When she was 8 years old, Jasmine Gallegos was her dad Gary's designated go-fer, handing him wrenches and other tools while he worked on cars.
Later, she followed him into full-time mechanic work and then into work as volunteer firefighters
.
On Saturday, May 11, they shared another experience together – walking the line to graduate from Luna Community College.
Jasmine finished her certificate program in automotive technology; Gary Gallegos concluded his associate of applied science in vocational education, specializing in automotive collision repair technology.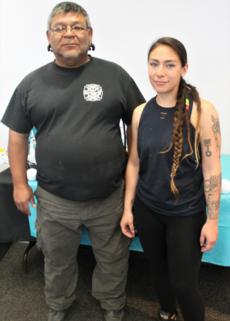 Jasmine said her father has always been a role model and they've remained close over the years, although she acknowledges a rough patch that they have since overcome. Following her dad around as a kid, she acquired first the skills and then the love for being a mechanic.
"At first I didn't think I was going to like it," she said of working on vehicles. "But I found that I have a passion for it. When I was a little kid I'd watch my dad work. I'd help him by getting tools for him. Sometimes I'd get the wrong tool. I started really helping him when I was about 18."
When she first began her college journey, Jasmine planned to study criminal justice or fire science. But she soon recognized that her heart was in working with her hands, doing what she'd been doing for a while already.
"I came across a drag racing video," she recalled. "Ever since then, I've wanted to be a mechanic. I wanted to see how these machines work. I like how you have to be tough. I like getting dirty; when I was a kid, I was a tomboy, playing in the dirt and playing football and stuff. And I like that (mechanics) is like a big puzzle. I like all of it."
While Jasmine had no shortage of enthusiasm working in auto shops, she did encounter skepticism.
"In shops I worked in, I'd get a lot of people doubting," she said. "At first, they'd look me up and down. They'd be 'Oh, so you work at the desk?' or 'Are you the cleaning lady?' Until they get five minutes of talking with me, and then they see I know my stuff."
Working in a traditionally male-dominated field and being, in her own words, "smaller, young and female," may challenge the norms and bring out the doubters. But, she said, "If you're a good mechanic, you're a good mechanic."
And then there's her handshake.
"I have a very strong grip," she said. "I can crush your hand."
The doubters only made her work harder. "It made me have more drive," she said. "I knew I had to know what I was doing."
Whatever skepticism from customers Jasmine met in the shops, she had no such issues in classes at Luna: "I've always gotten along with my classmates."
"Luna helped me get my foot in the door (in terms of a career)," she said. "It has helped me keep my head straight. My instructors Gene (Sandoval) and Paul (Vance) believed in me – even if they gave me a nickname, 'Dory,' because I am forgetful. They helped me to always be doing the right things and continue my education, no matter how rough things have gotten. They took the time to work with me. They do care about me and helping me with my career."
Jasmine is especially excited to have shared the Luna graduation experience with her dad.
"It feels great," she said. "I'm a little him. We do a lot of things together; we are both firefighters as well. We've had our troubles in the past. It feels great to overcome the struggles we've had."
Jasmine's mom Candice also helped Gary with some mechanic work along the way, and she is able to perform basic maintenance like changing tires or motor oil. "I'm sure she expected me to go into mechanics," Jasmine said. "I always followed my dad."
Although Jasmine is considering the possibility of acquiring additional training in welding or collision repair, she said she is currently employed with the New Mexico Department of Transportation and – together with her dad – is looking into obtaining business licensure to provide roadside assistance to motorists.
"I'm pretty hopeful," she said. "Things are going well. I'm doing well and doing what I love. Every day is like a vacation if you love what you do."