Luna sends 22 to diversity summit
May 24 2019
---
Luna Community College
Nearly two dozen Luna Community College employees joined counterparts from post secondary institutions across New Mexico in a statewide summit on promoting, developing and nurturing diversity in higher education.
New Mexico Highlands University hosted the 2019 Diversity Summit, which carried the theme "Envisioning Diversity, Equity and Inclusion In Higher Education" on May 21 and 22 at the Student Union Building.
Panelists and speakers, who included professors, administrators and others, discussed efforts and strategies for making their college campuses places where diversity is embraced and treated as a strength – thus making them more welcoming destinations for students regardless of race, ethnicity, gender, sexual identity and other factors.
Luna had one of the largest contingents of any school at the two-day conference, which also drew participants from the University of New Mexico, New Mexico State University, Eastern New Mexico University, Santa Fe Community College and Northern New Mexico College in addition to the host NMHU. Presenters also hailed from United World College and New Mexico Military Institute.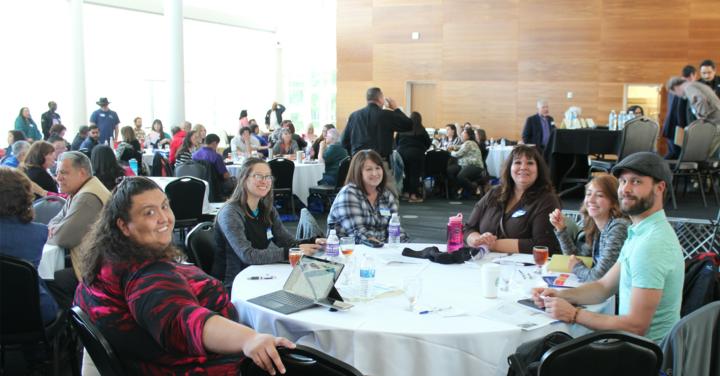 LCC President Rolando Rael encouraged the college's employees to take part in the event. Six academic departments were represented, and several staff members from student success center, admissions and recruitment, veterans resource center, area health education center, human resources and public relations also attended.
"It is important that we do whatever we can to ensure Luna Community College is truly a place where diversity is celebrated," said Rael. "Diversity not only of backgrounds and origins but of ideas and perspectives will only make us a more vibrant campus – and a stronger institution. Higher education isn't just about what takes place in the classroom; it also involves learning about other people and learning to appreciate differences."
"On behalf of the Luna community, we thank NMHU for inviting us to this important summit," said Jesse Gallegos, public relations coordinator. "Highlands was a gracious host and did an excellent job putting this event together. The discussions were thought-provoking, with ideas that will help us strengthen our commitment to diversity."
Keynote speakers included Nancy "Rusty" Barcelo, Josephine DeLeon and Eric Nixon. Barcelo, a former president at Northern New Mexico College, is currently speci
al assistant to the chancellor on behalf of equity and diversity at the University of Illinois. DeLeon, the first vice president for equity and inclusion at UNM, has worked for state government as well as both of the state's two largest universities. Nixon is a human rights activist involved in the NAACP and the Restorative Justice Initiative.
"Diversity needs to be framed differently," Barcelo told the crowd. "Not as a problem to be solved, but as an asset to be cultivated." She urged summit participants to work to become agents of change on their home campuses, getting away from what she called "simplistic, binary thinking" that leads to labeling and division. But she also called on participants to continually "re-examine our own biases … we all have our fear of differences."
Panelists tackled an array of topics ranging from ensuring proper representation for all groups in the 2020 census to responding to those who bring hate speech into campus dialogues. Edward Martinez, a Highlands administrator, noted that a college's commitment to diversity and inclusion requires looking inward at policies, programs and institutional support from administration to faculty and staff to students.
Others called for change in the educational process itself, giving greater recognition to the perspectives students bring with them. "We forget to tap into the students' wealth they already bring with them into the classroom," said Jose Azul Cortes of UNM. "We have to humanize it. We have to move away from intellectualizing everything. We have to allow ourselves to feel … let that drive your instruction." Stephen DeGiulio of SFCC suggested the rigidity of traditional classroom roles and rules isn't necessarily the best way to ensure real learning takes place.
Kadriye El-Atwani, who works with the New Mexico Public Education Department, said instruction that is more cognizant of cultural and linguistic diversity should be incorporated into everyday coursework, as opposed to being grouped into one additional class specifically on diversity.
A number of presenters shared some of their own personal experiences. One was NMHU alumnus Gabi Hernandez, who came to the U.S. as an undocumented immigrant from Mexico. At Highlands, she said, she learned not only ways to express herself through art but ways to fight for equity.
"We're going to need every single one of us – every single one of you – to make change happen … to make a better world," she said.