Local student graduates from WLV High School and Luna
May 29 2019
---
Preciosa America Chavez did what so few do — earn a diploma for being a high school graduate and earn a certificate for being a college graduate. Chavez graduated from West Las Vegas High School on May 25. Fourteen days earlier she did the same at Luna Community College. At Luna, Chavez earned a general education certificate.
"When I first took classes at Luna, I was really scared; I am really close to my mom, but I grew up quickly and did things myself," said Chavez. "The instructors assisted me in whatever I needed. They are really good instructors; I learned a lot."
Chavez said she met a lot of great people at Luna and wants to give a special thank you to employees Francisco Apodaca, Betsy Sanchez, Billie Mathews, Sara Vigil, Kenneth Bachicha, Ernissa Romero, Cindy Branch, Joe Baca, Janice Medrano and Dr. Anita Roybal.
While at Luna, Chavez finished the core classes required for a bachelor's degree. Chavez' next stop is to earn a bachelor of science in bio-chemistry from New Mexico Highlands University. She intends to take additional classes at Luna while attending NMHU. She then wants to go to medical school and eventually become a pediatrician. She has earned several scholarships to continue her education.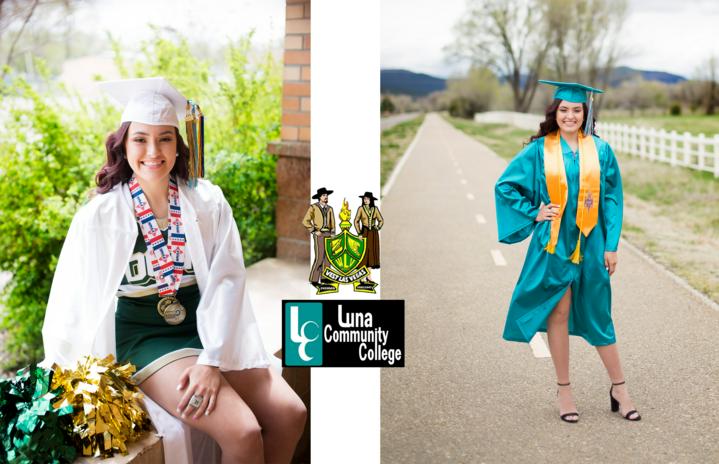 "I would like to come back to Las Vegas and give back to the community," said Chavez.
Chavez said she was raised by her mom, Angel Gutierrez, but didn't let coming from a single-parent home hold any obstacles for her.
"I know how it is without a father," said Chavez. "I see my mom struggle, and it taught me to work hard. She always told me to give everything I have in anything I do."
Chavez must have. Not only did she earn a diploma and a certificate, she helped West Las Vegas capture a state championship in cheer, and she played soccer, volleyball and basketball for the Lady Dons. In 2018, Chavez worked as a summer physics intern at Los Alamos National Lab.
"My mom always told me to do the best that I can," said Chavez. "My mom and my grandma Margie Seay-Maez are my inspirations. They are the strongest women I know. I don't how to put it into words. They are my rocks. They are the first people I knew. They believe in me."
Although she is fond of Luna, Chavez said West Las Vegas is home.
"I excelled there; West Las Vegas prepared me well," said Chavez.
Her mom Angel, a special education teacher at West Las Vegas High, said her daughter is self-motivated.
"I'm super proud of her," said Angel. "She has always been very driven. People ask me, 'How do you get your kid to do what she does?' This has been all on her. She studies two or three hours a day. I'm grateful to Luna and West Las Vegas; they prepared her well for her next steps in life. "
As busy as Chavez was this year while taking both high school and college classes, she was also voted homecoming queen at West Las Vegas as a senior.
Her advice to other students? "Study and work hard for what you want," said Chavez.