Luna Car Show scheduled for Saturday, June 8
June 6 2019
---
Luna car show turning 15 Free event June 8 at Melody Park
By Dave Kavanaugh
It's a quinceañera, and you're invited. The Luna Community College Custom Car Show is turning 15.
The 15th annual event, which showcases some of the specially modified two- and four-wheel beauties of northeastern New Mexico, is coming to Melody Park on the New Mexico Highlands University campus on Saturday, June 8.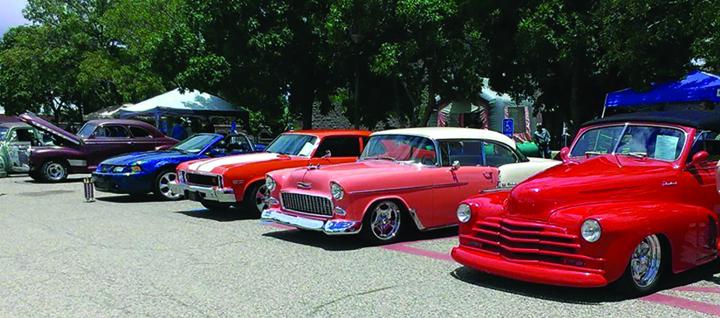 The Luna Community College Custom Car Show will feature custom cars and trucks, motorcycles and bikes, live entertainment (acclaimed band Viento and the DJ Dangerous Dave Montaño), food vendors, special guests, door prizes and more. Organizers will award sponsored trophies as well as the Icon Award and Memorial Award. Set-up for the event will take place from 8 to 10 a.m. that morning, with the show open to the public from 10 a.m. to 3 p.m.
As a prelude to the show, pre-registration and a Cruise Night will take place from 6 to 8 p.m. Friday, June 7, at the NMHU Student Union Building (800 National Ave.).
Those interested in entering their custom vehicles are asked to attend the pre-registration. All years, makes and models are welcome. Projects in progress as well as the finished products are welcome. Registration fee is $25 per exhibitor, and the first 100 to register a vehicle will receive commemorative T-shirts.
The car show originated in 2003, as the trio of Anthony Baca, Ron Duran and Rick Roybal worked out a joint venture between Luna and NMHU. Margaret Gonzales, then with NMHU's student life, was a major contributor as well. "It was to have an outlet for students in the automotive technology program to showcase their skills and talents," Baca explained, "whether it's building an engine or painting a car … that was the initial thing. And it was for the community to chime in, too, with their skills and talents. It allows everyone to collaborate and exchange ideas; it inspires them."
"The whole purpose was to have that kind of activity together with Highlands," Baca said. "We work well together. It's a community event for all ages, and it brings people out … I've seen that generational thing, where the father had a car back in 2003, and now the son is doing it. Families go and set up their lawn chairs and just enjoy the day. There are informational booths set up by Luna and Highlands and other community organizations."
Proceeds from the event benefit the auto tech and auto body programs at Luna, Baca said, helping to pay for student travel to field trips, conferences and other activities. "The community has been generous about giving sponsorships," he noted. "We thank the community, the local business owners, for that."
Over time, the car show has at least doubled in terms of the number of entries. Last year, approximately 120 entries were on display. While many are from the Las Vegas area, there are also participants from Colorado as well as the Albuquerque, Santa Fe, Espanola, Mora and other communities.
"We've had some top-notch cars go through here," Baca said. A few examples of those that have stood out: a Batmobile, a monster truck, a tractor-pull truck, race cars, SEMA show winners and cars inducted into the New Mexico Lowrider Hall of Fame.
"It's not just about old cars," he added. "There's new cars that show the new technology – some with TVs and different things."
Baca said American society – and northern New Mexico in particular – has long had a love affair with the automobile and the car culture.
"Back in the day when people had very little money, they would save up for months or years to buy their first vehicle," he said. "They relate their vehicle to the hard work it takes to accomplish it. Not only to buy your own but to fix your own, it's a sense of accomplishment. Especially here in New Mexico, that feeling is very strong. There's family tradition involved. Someone will say, 'I remember my grandpa had a '62 Buick…' Or we remember as kids we used to travel here and there, getting into the station wagon and going… It brings back memories; that's what keeps the culture going. And you spend so much time in your vehicle. Your vehicle is pretty much like your second home."
When it comes to staging a car show successfully for 15 years running, Baca credits community support across the board as well as the work of Luna's car show club members – including adviser Henrietta Romero, president Dave Montano, vice president Florencio Garcia, treasurer Travis Baca, secretary Josh Corbin, and senator Raul Ramirez. Baca functions as promoter. He said performers like Montaño, Robert Baca and Viento are also generous about donating their talents to help stage successful shows.
For more information on the car show, you may call Anthony Baca, 505-429-0425, or Dave Montaño, 505-595-9985.