Virtual bookstore coming to Luna Community College
July 15 2019
---
Luna Community College students will have an opportunity to buy their books through a virtual bookstore.
Luna and MBS Direct have partnered to ensure that students' textbook needs will be met. Beginning on Aug. 1, Luna students can order their textbooks for the fall semester.
MBS Direct was carefully selected to deliver the best value for Luna students. Among the benefits Luna students will receive from MBS Direct are:
• The nation's largest inventory of used books for cost savings
• All orders shipped in a timely manner
• Multiple payment options
• 100 percent return policy. Course materials must be returned within two weeks after the class start date or within 21 days of date shipped, whichever is later.
• U.S.-based customer service by phone or e-mail
In addition, each semester, MBS offers a Customer Loyalty Program that increases the amount Luna students will receive when selling back their books.
MBS Direct currently serve the needs of nearly half a million students nationwide, with over seven million books in their Columbia, Mo. facility. MBS Direct was developed to help institutions like Luna improve textbook services. The MBS Direct program ensures course materials will be available when academic terms begin. This program provides convenient ordering, accurate and timely fulfillment, and better overall services for students.
MBS Direct will maintain a current list of Luna courses and materials, and in the event of any changes, they promptly notify students. Students may sell back their eligible textbooks to MBS using a convenient online buyback option.

Orders are shipped via UPS from MBS Direct within 24 hours (excluding weekends and holidays).
Students may access the Luna online Virtual Bookstore 24⁄7 at: https://bookstore.mbsdirect.net/luna.htm.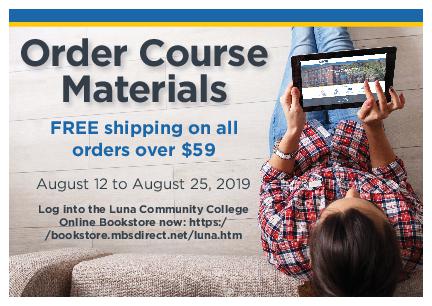 Luna students will need a college-approved e-mail to order books from MBS Direct when using financial aid. If a student does not use financial aid for purchasing books, they can use their personal e-mail. Students are encouraged to use their Luna e-mail. The Luna Financial Aid Office encourages students to complete their file as early as possible to avoid any textbook ordering delays.
For more information, please call Luna Bookstore Manager Ron Duran at 454-2569 or e-mail him at rduran@luna.edu. Duran will have computers set up for student use to place online book orders and will give direct assistance as needed. Luna will no longer sell books onsite, but will continue to sell non-textbook items.
MBS has a call center open 24 hours a day seven days a week to address any issues. The number is 844-603-9960.