Luna introduces new VP
September 11 2019
---
Luna Community College is welcoming a new vice president.
Dr. Kenneth Patterson is the college's new vice president for instruction and student services. He began work on Monday, touring the campus and meeting students, faculty and staff in various departments.
"We are happy to have someone who is eager to advance Luna with our academic and vocational programs and we look forward to Dr. Patterson's leadership and guidance," said Luna President Dr. Rolando Rael. "We are also looking to his leadership in the area of student services."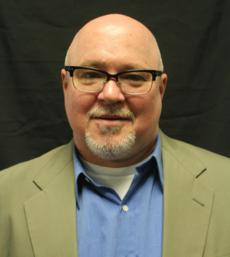 While Patterson succeeds Dr. Sharon Lalla as the college's chief academic officer, the new position is actually expanded in scope in that the vice president now oversees student service functions ranging from admissions to financial aid to campus life, counseling and career services.
Patterson emerged as the top choice of an eight-member committee of Luna faculty and staff members. He and three other finalists for the position interviewed with the committee as well as LCC President Dr. Rolando Rael. Additionally, Patterson and other finalists fielded questions from participants in separate campus forums, and forum participants were invited to provide feedback. The committee considered the feedback during its deliberations before forwarding its recommendation to the president.
A native of Alabama, Patterson has most recently worked with the Institute for Higher Education Policy and The Lumina Foundation while serving as a faculty member and assessment coordinator for Miles College in Birmingham, Ala. He is an independent consultant in higher education and adult learning who also designs online course delivery. He has also recently worked with the Hoover Public Library in Hoover, Ala.
Among his recent professional activities is nationally recognized research in the field of transformative learning applied to peer education of high-risk cultural groups in the area of HIV prevention. His ongoing research includes exploration of transformative learning in cultural groups and effective practices in creating higher education learning communities.
Patterson understands his approach to higher education as "pragmatic and purpose-driven," geared toward providing "optimal academic and professional opportunities for students and faculty."
"Luna Community College is in the perfect position to offer high-quality options to a wide variety of students," said Dr. Patterson. "Highly-qualified faculty drive our programs and engage our students, and Luna's staff is keenly focused on quality customer service. There is an outstanding level of commitment to the opportunities Luna offers each student."
Patterson and husband Kevin Thomas – who is a regionally recognized operatic tenor – are relocating from Birmingham, Alabama.