Former Luna student Jessey Martinez' short story selected to be published
November 9 2018
---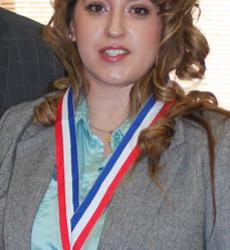 Former Luna Community College graduate Jessey Martinez was recognized recently by Phi Theta Kappa Honor Society. Martinez was one of 25 Phi Theta Kappa members who will have their writing published in the 2018 issue of Phi Theta Kappa's online literary journal, Nota Bene.
Martinez was one of two short story entries to receive the distinction. Her short story titled "Chile Rojo" (Red Chile) is centered around northern New Mexico and Martinez' relationship with her great grandmother and their love for red chile.
"I've always enjoyed writing," says Martinez a native of Mora. "I've never thought I was good enough to write, but I thought I would take a chance. I had started this paper in Patricia Crespin's public speaking class last summer. In addition, I want to thank Jonathan Lujan, a tutor at Luna, for his mentorship on this short story." Martinez graduated from Luna, earning a degree in criminal justice with a concentration in law enforcement, this past May. "This represents not only myself, but Luna," says Martinez. "Luna is where I evolved into someone with intellect. There are so many facets to Luna that are unexplored." Martinez is currently New Mexico's Phi Theta Kappa regional president. Her term ends in March.
Nota Bene is an anthology comprised of research papers, essays, short stories, and poems. It is scheduled to be published this winter. "I knew I was up against some talented and intellectual individuals, which I, at times, feel that I am not quite on their levels," says Martinez. There was a total of 520 entries.
"My hopes are that I have done the administration, my professors, and the student body well," says Martinez. "At 30 years old, I can now say that I am a published author and own the rights to my work thanks to the opportunities provided by Luna and Phi Theta Kappa. I owe the few meager successes I have had in my recent educational career to Luna and Phi Theta Kappa."
Martinez is currently a junior at New Mexico Highlands University studying political science and pre-law. She is also an associate justice with the student senate.
Martinez remains thankful to Luna.
"I am aware that these are only baby steps," says Martinez. "I couldn't be more humble, absolutely thankful, and on the brink of tears when I think of my journey at Luna. I feel we still live in a world where Hispanics and especially Hispanic women are seen as less than. I had to take that chance and send my writing out into the world. My hope is that other students may see this and will be convinced that they can accomplish things, convinced that they can do this, and be convinced that sharing their stories is worth more than those fleeting moments of doubt."
"Luna is where I evolved into someone with intellect. "