New softball coach Steve Wallace takes helm
September 27 2019
---
Wallace looking to build Rough Riders' pride in community
Luna softball coach Steve Wallace has been around the game for such a long time that although wins and losses are important, he wants to make sure that his softball players understand that there's more to life than hits and errors.
"I don't want my players to just graduate from Luna, but I want them to go on to a four-year university and graduate from there as well," said Wallace, who has been at Luna for just over a month. "I want to bring in professional people to talk to my team and let them know what types of careers there is for them. It's important that they are set for life after softball."
Wallace has an extensive coaching background. His latest was a four-year stint from 2014 to 2018 with Jarvis Christian College, an NAIA team in Hawkins, Texas. Wallace re-started the softball program there. He was also an admissions recruiter.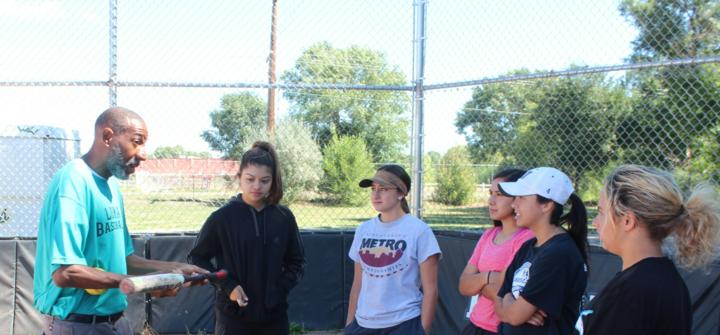 Those are the success stories on the field. Off the field remains a priority for Wallace.
"Our team will be involved in Breast Cancer Month in October," said Wallace. "Everyone needs to be checked. I come from a family that has a history of such diseases as cancer, high blood pressure and diabetes. With early detection you have a better chance of beating the disease. The more education on issues such as these that is out there, it's better for everyone."
Wallace said that he would also like his team involved in a food and cold-weather clothes drive in November.
"We will accept gloves and old coats, get them cleaned and partner with churches and local food banks," says Wallace. "Normally, in August we would have a school supply drive for younger students."
All this is part of the bigger picture, says Wallace.
"Every month our team will be involved in some type of community activity," says Wallace. "Giving back to the community is so important. The earlier people get involved with giving back, the stronger of a society we become. I get my strength in community service from my mother who was a teacher for 40 years, and I get my structure from my father, who was a 40-year Air Force veteran."
Among some of the ideas that Wallace has tossed around is having a Grandmother's Day at one of his games, in appreciation of all grandmas. Another idea is a Tea Day, where people in the community will be invited to have tea with his players and show some of the opportunities they have. In addition, they will learn the importance of networking.
"My philosophy is to be people-centered," said Wallace. "We are ambassadors for the college. I not only want my student-athletes to have a great college experience, but for all students to have a great college experience at Luna. We're going to be productive on and off the field. My job is to promote the program, individuals and the entire college. If I can help someone, I will."
Wallace said he has had the same philosophy wherever he has coached, including the years he spent as the head softball coach at St. Paul's College, an NCAA Division II team in Lawrenceville, Va., from 2004 to 2011. At St. Paul's College, for five consecutive years, his team improved its record from the year before and qualified for the conference tournament twice. In 2009, Wallace was named Central Intercollegiate Athletic Association Coach of the Year. In 2010, Wallace served as the site supervisor for the NCAA Division II Atlantic Region.
From 2011 to 2013, Wallace was the assistant athletic director for women's sports and head softball and volleyball coach at Virginia University of Lynchburg.
"In my second year as softball coach there, we played in the USCAA (United States Collegiate Athletics Association) national tournament," said Wallace. "We were fortunate enough where one of our games was televised on ESPN."
His professional memberships and development experiences include the National Fast Pitch Coaches Association and National Fast Pitch Masters, with whom he conducts softball clinics around the country. He was also an NCAA Atlantic Region Softball Committee member from 2007 to 2010.
Wallace has master's and bachelor's degrees from Virginia State University.
"I like the people at Luna; I like the small college student-centered approach and family atmosphere," said Wallace. "The instructors have a lot of energy. I feel that Luna has all the ingredients to be a dynamic institution of higher learning."
Wallace said his players are great to be around.
"I love their attitudes," said Wallace. "They have some of the best attitudes I've ever been around; they're very coachable. We want to take one step at time and take the program to another level."