New Mexico Gov. Michelle Lujan Grisham visits Las Vegas
October 1 2019
---
By Dave Kavanaugh
Luna Community College
Gov. Michelle Lujan Grisham discussed her administration's recent and planned initiatives before a full house Tuesday, Oct. 1, at Kennedy Lounge on the New Mexico Highlands University campus.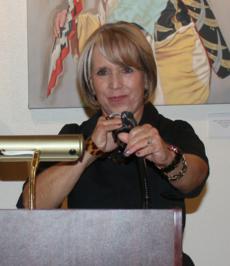 The governor spoke for approximately an hour, also fielding questions from audience members who packed the gallery and its immediate perimeter for a chance to interact with her.
"I am so honored by the turnout," she said. "I work for you."
Grisham noted that for several months running, New Mexico has been one of the top 10 states in growing economies. She said the state is looking to become an international leader in renewable energy.
Las Vegas and northeastern New Mexico, she said, will benefit from an estimated $13 million state investment in roads and infrastructure here, an allocation for the New Mexico Behavioral Health Center, and a piece of the $446 million invested in public education statewide, including hikes in teacher pay.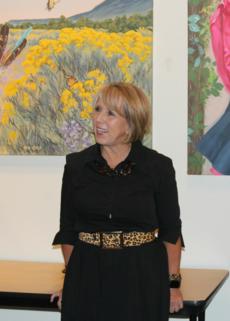 Grisham recently announced her administration's plan to make college tuition free for many four-year university students as well as two-year community college students – branded as the New Mexico Opportunity Scholarship. Particulars of the initiative have to be clarified and will depend in part on the state legislature, she noted.
"We're going to be the best place in the country for public education," she said.
The administration acknowledged the presence of NMHU and Luna Community College, both of which were represented in Tuesday's gathering.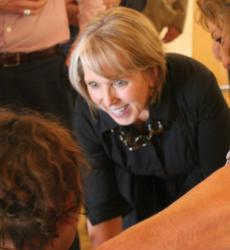 NMHU President Dr. Sam Minner hailed the governor's initiatives as "a moonshot … to significantly improve K-12" and called the free tuition concept "equally bold and … attracting lots of national attention." Minner said it was "refreshing to work in a state where we discuss bold ideas" and pledged support.
The governor said that while progress is being made, there are a number of problem areas to be addressed – including drug abuse and addiction, high costs for health care insurance, costs of insulin and cancer medication, costs of childcare, and high poverty rates despite a high per capita number of PhDs in the state, something she said was incongruous.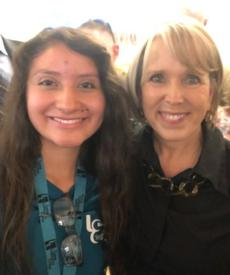 After the conclusion of the governor's prepared remarks, audience members asked questions about such topics as the new state ethics commission, recent forest closures to firewood permitting, commitment to STEM, health care access in rural areas, fraud in the health care system, cuts in funding for senior centers, proposed single-payer health insurance, and public transportation.
"We're building a future for this community," she said. "I promise to send resources and to continue to build this beautiful community. When I come back to Las Vegas, I want to talk about those successes. I can't do any of these things without you."
It isn't the first visit by the administration to Las Vegas. Lt. Gov. Howie Morales recently visited both Luna and Highlands campuses for ongoing talks about higher education and the economy.
LCCmatters