Job creation a goal for Montaño-Baca
October 28 2019
---
SBDC associate earns recognition
Luna's Small Business Development Center Associate Director Briana Montaño-Baca recently brought home two honors.
She received the SBDC State Star Counselor's Award for her exceptional work with clients and the communities she serves. She also represented New Mexico at the national America's Small Business Development Center Conference in Long Beach, Calif.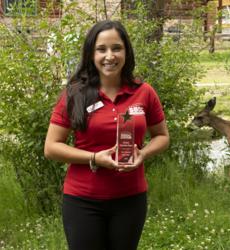 Since she began working with the SBDC three years ago, she has helped start 36 businesses and create 139 jobs.
"I love what I do," she says. "It's not only about helping clients; it's about people's livelihoods."
The mission of the SBDC is to develop skilled entrepreneurs and strong businesses. The New Mexico Small Business Development Center (NMSBDC) was established in 1989 through a partnership with the U.S. Small Business Administration, the State of New Mexico, the New Mexico Association of Community Colleges, and the New Mexico Association of Independent Community Colleges. The organization's offices are strategically located in 26 communities throughout New Mexico.
The Luna SBDC works with clients from Mora, Guadalupe, Colfax and San Miguel counties.
"I love being part of the Luna family," she says.
The program provides no-cost business consulting and low- or no-cost business training to entrepreneurs throughout the state.
As part of her duties, Montaño-Baca also assists Luna students start business plans and links them with funding opportunities they may qualify for.
Born and raised in Las Vegas, Montaño-Baca is a West Las Vegas High graduate. She earned her undergraduate college degree from Texas Tech University and her master's from
Highlands. While in high school, she took dual credit courses at Luna.