Luna participates in summit targeting youth substance abuse
October 29 2019
---
"If you are hurting, talk to someone … you are not alone."
Fighting through tears, ViviAna Sena delivered that message to a crowd of several thousand who filled the Wilson Complex on Thursday, Oct. 24, for the New Mexico Youth Summit, Northeast Region, an event designed to educate secondary students on the dangers of substance abuse.
Sena is the mother of the late Grace Gallegos, a West Las Vegas alumnus whose death stunned and saddened the community back in February 2018. Flanked by family members, Sena told the crowd of her daughter's story – memories of Grace's vibrant personality, positive attitude and uplifting sense of humor, and the drive that helped her and the West cheer squad to the state spirit championship. But an injury led Grace to experimentation with painkillers and eventual addiction, Sena said. Though Grace made some progress in fighting addiction, it ultimately proved too difficult to overcome.
Sena urged audience members to seek out those in their own support systems should they encounter pain, trauma or issues that create physical or emotional hardship. And she pointed to the resources – examples of which were represented on exhibit tables around the gym – available to help.
Early intervention, she said, may make all the difference.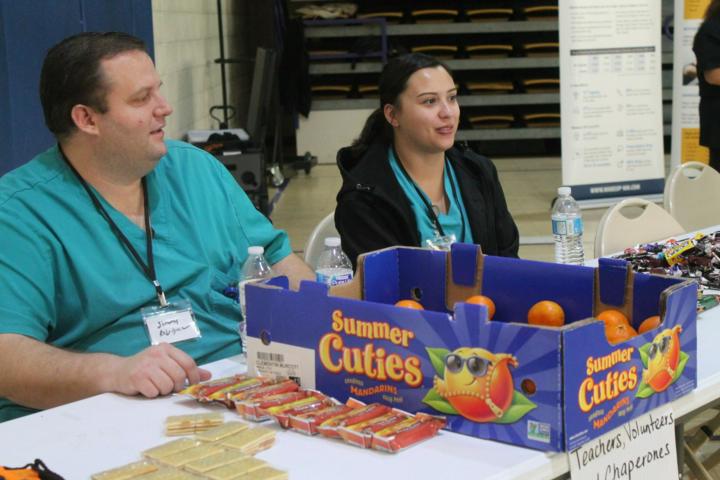 As Sena spoke, photographs of Grace – from baby pictures to family photos to selfies to action shots of her in her green and gold cheer uniform – rotated on display, projected on a pair of large screens on either side of the stage. Seated in a semicircle on folding chairs in front of the stage were nearly a dozen survivors of individuals whose lives had been cut short by substance abuse. They held framed pictures of their loved ones and listened somberly, reflecting – perhaps – on their own families' stories.
As Sena concluded her story and shared an embrace with the family members who'd joined her on stage, the audience – a number of whom also shed tears ̶ honored her with a standing ovation.
The New Mexico Youth Summit, carrying the theme "Together We Are Stronger," is a collaborative effort among the New Mexico Human Services Department Behavioral Health Services Division, DEA 360, New Mexico Children, Youth & Families and New Mexico Public Education Department. Thursday's event – one of several scheduled around the state – included students from grade six through 12 and others from seven counties: Colfax, Guadalupe, Harding, Mora, San Miguel, Quay and Union. Locally the San Miguel County Substance Abuse Prevention Coalition coordinated the event with help from other community partners.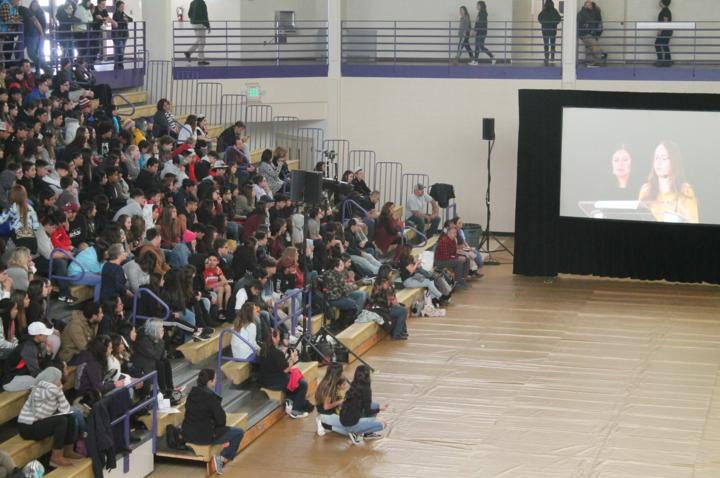 According to the 2017 New Mexico Youth and Resiliency Survey (youthrisk.org) shared by event organizers, 6.9 percent of New Mexico high school students reported current use of painkillers to get high, 2.8 percent reported current heroin use, 10.9 percent reported binge drinking, and 20.7 percent reported drinking alcohol before the age of 13.
"New Mexico's struggle with substance addiction and overdose fatalities continues to be of great concern," organizers wrote. "We want to educate our youth, parents and community members of the dangers associated with substance abuse."
In addition to guest speakers like Sena, Thursday's audience watched a showing of the film "If Only," a production of the Mark Wahlberg Youth Foundation, and enjoyed breaks for musical entertainment provided by area performers.
Luna Community College's Level 3 nursing students led volunteers in helping distribute gift bags for attendees, and some served nutritious snacks. The college was also one of many exhibitors to provide information and resources to participants, with Moses Marquez and Suzanne Quintana representing the LCC Office of Admissions and Recruitment.