LCC honors veterans, Maximiliano Luna
November 11 2019
---
Luna Community College honored veterans, both from within the college and the community, in a ceremony Monday on campus. In total, Luna President Dr. Rolando Rael presented each of 21 veterans with a service medal. In addition, each veteran received handcrafted gifts from children attending preschool at the college.
"This is the best recognition ceremony we've been given," said Albert Gallegos, a resident of La Manga and a Vietnam veteran. "We were honored with a medal, and the kids coming up with gifts thanking us for our service was extra special. I think all veterans felt it. We want to thank everyone."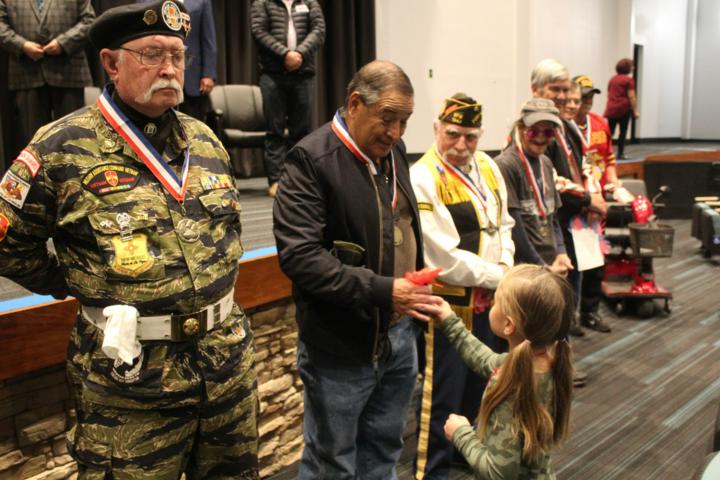 Among those speaking on Monday were former Luna President Dr. Pete Campos, a state senator, and Dr. Tomas Salazar, a state representative. Joseph Sanchez, a state representative, also attended the event.
"Deep down inside when we talk about freedom, it's not free," said Campos. "It is important that we support our veterans and each other. The future of America is bright, and the future of New Mexico is bright. It takes all of us working together. We need to always keep veterans in mind; we have no idea what they have gone through. It leaves us to love them and never to leave them."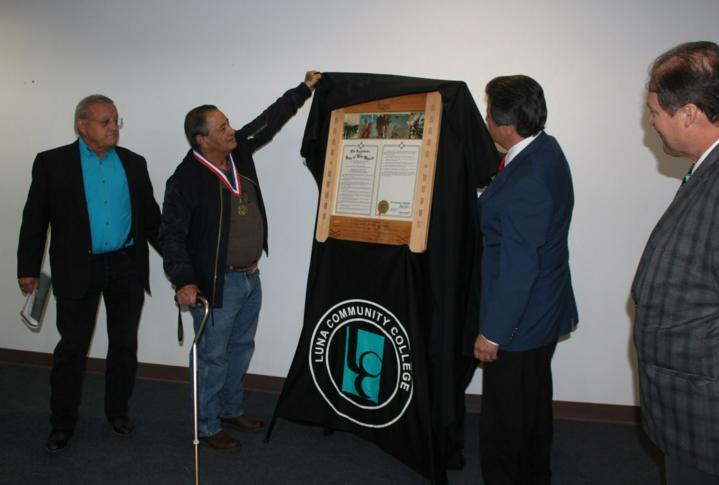 The following veterans were honored on Monday: Lita Bernal, Air Force; Geno Castillo, Marine Corps; Eugene Sandoval, Army Reserves; Jose Bernado Manzanares, Air Force; John Garcia, Marine Corps; Gary Gallegos, Army; Joseph M. Salas Jr., Army; Henry Joe Garcia, Army; Larry Pacheco, Army; MaRian K. Brotherton, Army National Guard; Juan Ortega, Army; James Rivera, Army; Genovevo Gonzales, Army; Joe Paul Salas, Marine Corps; Napoleon Quintana, Army; Johnny L. Valdez, Army; Alan Killian, Army; Albert Gallegos, Army; Ernie Chavez, Marine Corps; Leroy Urioste, Marine Corps, Army National Guard; and Gary Ludi, Army.
The morning began with a ribbon-laying ceremony at the outdoor Maximiliano Luna Monument, which included an honor guard, and the playing of "Taps."
The event culminated with an unveiling of a framed proclamation in honor of the college's namesake Maximiliano Luna. Vietnam veteran Leroy Urioste and Dr. Campos were on hand for the unveiling of the proclamation, for which a special frame was crafted by Luna's David Flores.
"Maximiliano Luna was loyal to the United States," said Campos. "He proved himself as the only Hispanic captain with the Rough Riders."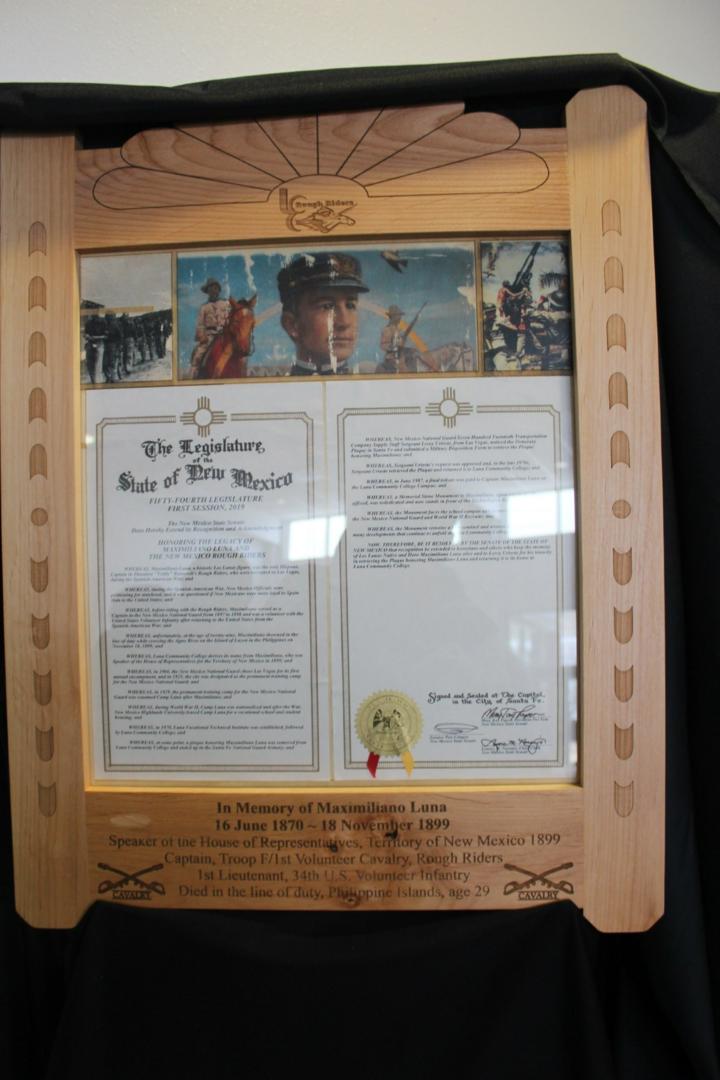 Dr. Salazar also spoke.
"It is my sincere hope that this Veterans Day event also leads us to an appreciation of the role that Luna has played in supporting and recognizing our veterans," said Dr. Salazar. "To all veterans, thank you and God bless all of you."
Salazar shared a story of Camp Luna's role in World War II.
"In August 1940, talk of war swirled around Camp Luna," said Dr. Salazar. "The 1,800 men of New Mexico Coast Artillery Regiment gathered there to train one last time on home soil before heading to the Philippines. Among the contingency was my primo (cousin) Pablo J. Baca. The 200th Coast Artillery held 1,816 New Mexicans, many fluent in Spanish. That skill inspired military leaders to deploy them to the Philippines in September 1941. Along with Filipino troops, they defended the Bataan peninsula when it fell to the Japanese military in April 1942. During the Bataan Death March and their subsequent imprisonment, 829 from the regiment died or were missing. Among the dead was primo Pablo. Though the prisoners were freed in 1945, a third of the survivors died within a year from injuries or disease."
Urioste was the last to speak.
"This framed proclamation honoring Maximiliano Luna is something I wanted to see here at Luna since the 1980s," said Urioste.