Rough Riders pick up win in home debut
February 20 2020
---
Luna Community College baseball came away with one win in a four-game home-and-home series against Otero Junior College this past week.
The Rough Riders earned a split of Monday's doubleheader at Brandt Park, which served as the home opener for Luna and head coach T.C. Nusser. That followed the team's visit to Otero for a twinbill Sunday afternoon in La Junta, Colo.
Luna (4-8) then dropped a tough one, 15-0, to Trinidad State Junior College in a single nine-inning contest on Wednesday, also at Brandt Park.
Otero 5, Luna 4
Rogelio Gonzales drove in two runs and Dustin Sipe had a double and an RBI in going 2 for 3 for the Rough Riders. Joseph Chaparro also had two hits for Luna.
The host Rattlers built a 3-0 lead going into the fifth inning before the visitors drew within 3-2 and then tied the game 4-4 in the top of the sixth. Otero scored the walk-off winning run in the bottom of the seventh.
Brandon Petrino started the game on the mound for Luna and held the Rattlers to four runs on eight hits and four walks with three strikeouts. Gonzales and Sipe paired up for one double play.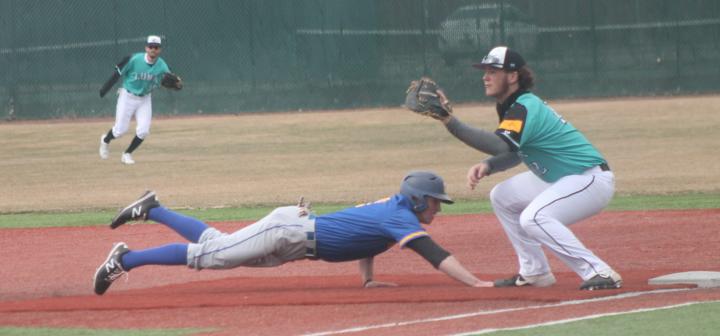 Otero 14, Luna 4
Luna struck first in Sunday's nightcap, but the Rattlers soon answered, knotting it at 1-1; then the home side pulled away, taking an 8-1 cushion into the fifth. In the top of the fifth, the Riders scored three runs but Otero again had an answer.
Adrian Munoz recorded two hits, including a double, and David Amaya and Tyler Godfrey both added doubles. But that and a Tyler Burch single were all the hits Luna mustered. Sipe drove in a run with a sacrifice fly; Amaya, Godfrey and Gonzales also had runs batted in.
Defensively, Gonzales and Sipe again turned a double play. Daniel Morales (1-1) pitched three innings, allowing five runs on four hits and five walks with two strikeouts. Las Vegas Robertson grad Austen King was among those who pitched in relief.
Luna 6, Otero 5
Gonzales drove in three runs and Amaya and Jace Piepkorn plated one apiece as Luna won its home debut. Gonzales and Amaya, who doubled, both collected two hits to pace the Rough Riders.
Otero led 1-0 after its first set of at-bats, but Luna responded with two runs in the bottom of the first. The Rattlers briefly tied it in the fourth, with the Riders surging ahead with four scores in the bottom of the frame to take a 6-2 lead.
After yielding three runs in the top of the fifth, Luna's pitchers did not allow a score over the last two innings. Godfrey and Sipe had a double play.
Trent Dewyer (1-0) went four innings, allowing two runs – one earned – on six hits and five walks with two strikeouts. Ruger Bravo picked up his first save, holding the Rattlers to three runs – one earned – on four hits and two walks with two strikeouts over three frames.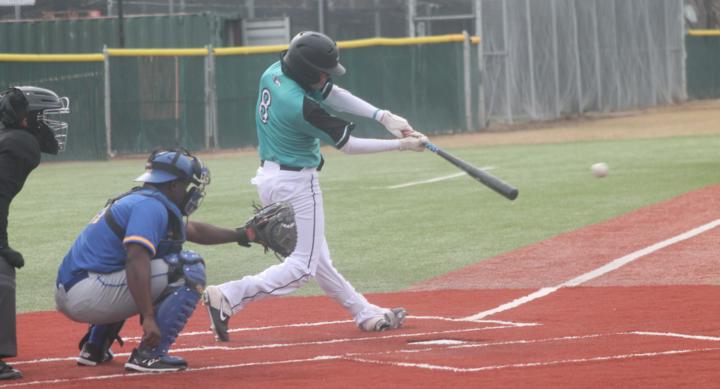 Otero 16, Luna 5
The Rattlers claimed revenge in the finale, springing out to a 4-0 first-inning lead and never relenting.
One Luna highlight was Sipe's two-run homer. Gonzales and Piepkorn both doubled and Alex Baez singled to account for the Riders' hit total. Gonzales and Baez each notched an RBI.
Dewyer, who went from the pitching mound in the win to center field, was one of four who had a part in double plays, joining Gonzales, Godfrey and Sipe. Eliazar Torres (1-1) absorbed the loss in three and one-third innings of work.
Trinidad State 15, Luna 0
The visiting Trojans won in five innings, though the game stayed relatively close through the first four frames. It was 5-0 going into the top of the fifth, and Luna went through five pitchers trying to contain Trinidad State's potent offense.
Gonzales led the Riders with two hits, going 2 for 3; Sipe added the only other hit for the home team. Coleman Ragland hit 3 for 3 with a triple and four RBI to lead the Trojans, who collected 10 hits and exploited two Luna errors.
The Rough Riders are slated to play a four-game series at Vernon College in Vernon, Texas, this coming weekend. Doubleheaders will begin at noon both Friday and Saturday.
**
Luna's softball games with Trinidad State this Saturday have been rescheduled for Wednesday, March 4. In addition, the softball game with Pratt Community College scheduled for Wednesday, Feb. 26, in Pratt, Kan. has been rescheduled for Monday, March 23. Luna is scheduled to play Trinidad St. at home in a doubleheader at 11 a.m. and 1 p.m. on Friday, Feb. 28 at Highlands.
The team has had several games cancelled recently due to weather, travel and field conditions.
Coach Steve Wallace and his squad play their first home games of the season on Feb. 28.