Rough Riders softball back in action; Luna baseball takes two at Wayland Baptist
March 2 2020
---
Luna Community College softball made its long-awaited home debut – the first action in nearly a month – on Friday at New Mexico Highlands University's Cowgirl Field.
Due to a series of weather-related cancellations and postponements, the Rough Riders hadn't played since their season-opening doubleheader at Otero (Colo.) on Jan. 31. Steve Wallace, in his first season as Luna's head coach, has had the squad working hard in practice, but getting the rust off was Priority No. 1 on Friday against visiting Trinidad State.
Trinidad State 11, Luna 1 (six innings)
Mikayla Martinez doubled and drove in Luna's lone run in the bottom of the fourth in going 2 of 3 at the plate. Jackie Delgado and Aiyana Gonzales were the only other Rough Riders to get hits off Trojans pitcher Marley Moralez, who struck out six and held Luna to four total hits, although she did allow seven walks.
Ahahi Ruiz had a solid start in the pitching circle for Luna, striking out six and scattering two earned runs and six hits over her four innings of work. Indeed, it was a bit of a pitchers' duel through the early innings – scoreless through the first two frames and a one-run margin going into the fifth.
Trinidad's Gianna Paape homered and drove in two runs; she and Rachel McKinley had two hits and two RBI apiece for the Trojans.
Trinidad State 8, Luna 2
Luna seemed to find its offensive groove in game two, scoring the first run and trailing just 4-2 going into the sixth inning. But the Trojans pulled away with two unanswered runs in each of the last two frames.
Gonzales doubled twice and drove in a run in going 3 for 4 to lead the Rough Riders; her batting average is .692. Mckayla Thorley belted a solo home run, and Ruiz and Olyvia Dominguez both went 2 of 4.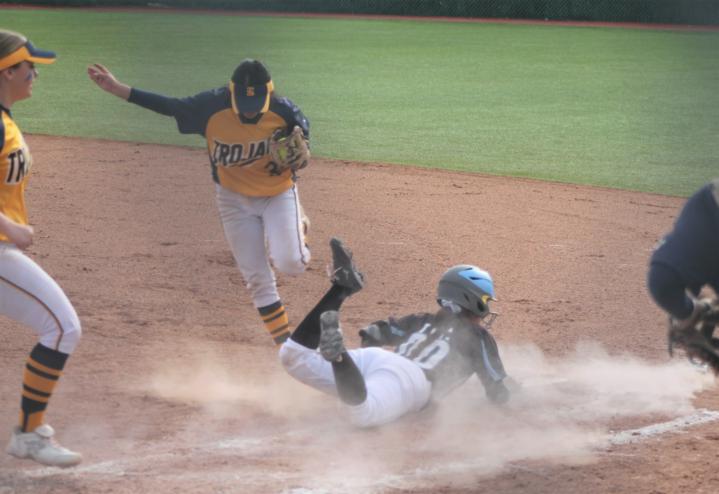 Bailey Griego, McKinley and Sydney Stewart combined to provide most of Trinidad State's firepower. Each collected three hits, including a home run apiece, with McKinley notching five RBI. That held up a winning pitching effort for Morgan Pantaleo (five strikeouts, two earned runs on seven hits and three walks through five innings). Griego allowed three hits with no runs in two frames of relief.
Mary Martinez fanned four in going the distance for Luna.
**
Meanwhile, Luna's baseball team was in west Texas playing Wayland Baptist's developmental squad, winning twice in a three-game series in Plainview, Texas. At 7-12, coach T.C. Nusser's Rough Riders have matched last season's win total and still have 36 games left.
Wayland Baptist 8, Luna 6
A ninth-inning rally by the Rough Riders fell two runs shy, and the host Pioneers won a competitive series opener on Friday evening in Plainview, Texas.
Luna led 2-0 after one inning and it was 3-3 going into the bottom of the fourth, when Wayland Baptist scored three to take control. The Rough Riders pulled within 6-5 in the top of the seventh before the Pioneers added insurance.
Dustin Sipe smashed his fifth home run of the spring, driving in three runs. Tyler Godfrey went 3 for 3 with two walks, and Kyler Rinehart hit 2 of 4.
Luna 6, Wayland Baptist 5
The Rough Riders overtook their hosts with a three-run third inning for a 4-1 advantage and didn't relinquish the lead in Saturday's first game. Luna starter Ruger Bravo and reliever K.T. Gearlds combined to cut a Pioneer rally just short in the bottom of the seventh.
Sipe went 2 for 4 to lead the Riders in a good defensive game, with David Amaya smacking his first home run of the year. Amaya and Adrian Munoz plated two runs apiece.
Bravo (1-1) struck out seven and held the Pioneers to four earned runs on eight hits and no walks in six and two-thirds innings. Gearlds finished the contest with a strikeout to earn his second save of the season.
Luna 17, Wayland Baptist 4 (six innings)
After a scoreless stalemate through two frames, Luna jumped out to a 5-0 lead in the top of the third and coasted to victory, producing runs in each of the next three innings.
Sipe (3 of 4) and Joseph Chaparro (3 for 5, home run, five RBI) led Luna's hitters. Amaya went 2 for 3 with a double and three RBI, Brodrick Jackson tripled and drove in a run, and Tony Limon went 2 of 3 with three RBI.
Eliazar Torres (2-1) picked up the win, striking out six and limiting Wayland to three earned runs on seven hits and no walks in six complete innings.