Luna softball sweeps Air Force JV
March 16 2020
---
Coach Wallace achieves milestone
Luna Community College head softball coach Steve Wallace hit the 200-win milestone for his career while sophomore shortstop Aiyana Gonzales rose to the top of the NJCAA in batting average in a three-game sweep of visiting Air Force's junior varsity March 7-8 at Pecos High School.
Gonzales hit two home runs, including a grand slam, in the series. She is hitting .647 this spring.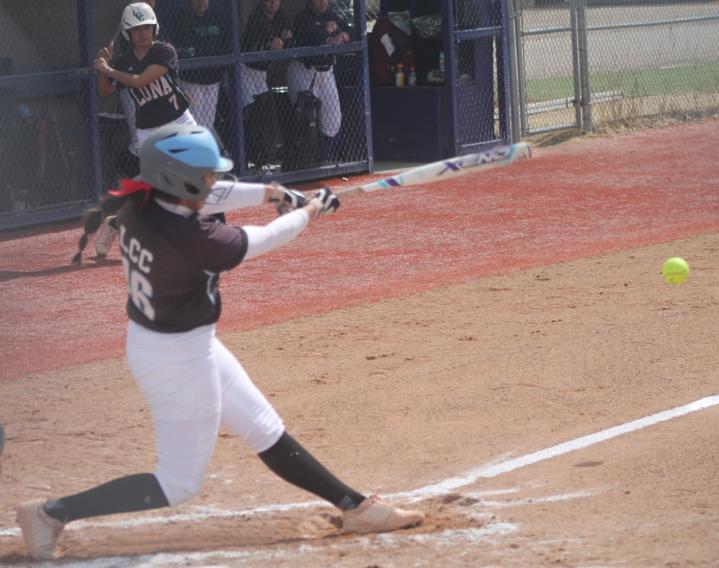 Scores were 15-5, 20-19, 20-4. In game two, Samantha Fuentes capped a dramatic comeback, scoring the winning run off a Mary J. Martinez hit.
Luna followed that up with a split at the developmental squad for NAIA school Langston University on Tuesday in Langston, Okla. The Rough Riders cruised to a 12-3 win in the opener, then lost a 14-13 nailbiter.
The Riders (4-7) will be off this weekend, then play at NCAA Division II Adams State's junior varsity on Wednesday, March 18.
• • •
Luna Community College baseball will look to bounce back after a tough four-game series with Midland College March 6-7 in Albuquerque. The Rough Riders (7-16) are scheduled to play at mighty Odessa College on Friday and Saturday at Wrangler Field in Odessa, Texas. The Wranglers are 18-2 and on a four-game win streak with 10 wins in their last 11 games.
This past weekend, Midland prevailed 13-3, 15-7, 14-2 and 26-0.
Adrian Munoz was 2 of 3 with a home run and three RBI in game one.
Joseph Chaparro drove in four runs and joined Tyler Godfrey and David Amaya in hitting home runs in game two. Ruger Bravo struck out seven but six errors hurt the Luna cause.
In game three, Amaya's solo home run was one of just four Rider hits. But game four was all about Midland ace Cameron Dayton, who fanned five and kept Luna off the board in a five-inning shutout.