Luna alumnus digs into forensic anthropology studies
November 29 2018
---
Dual-credit program at Luna helped pave way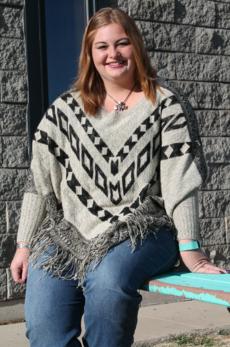 The idea of sifting through and studying human remains may be off-putting to the average person.
Ashlyn Wagoner isn't an average person. Never has been, really.
Wagoner, 20, parlayed a dual-credit experience – taking classes at Luna Community College while still a high school student at West Las Vegas – into a valuable head start on her postsecondary career. She expects to graduate from New Mexico State this December with a double major in anthropology and criminal justice and a minor in forensic science in form of human analysis. She's applying to graduate programs in anthropology at several notable institutions, including an elite program at the University of Tennessee.
Wagoner has set her sights on a doctorate and a career in forensic anthropology. She's considering such goals as a career with the FBI. But her main interest is working to provide answers to the mysterious deaths unveiled by forensic science.
"The main reason I love this field is because I knew that if I ever lost a family member or friend – if something happened to them – I would want to know what happened," she explained. "I'm really wanting to help them in that way, helping them find closure."
Whether it was her family influences – father Dale is a longtime police officer and captain in the New Mexico State Police investigations unit, brother Kedrick worked for a time as a mortician assistant, and other relatives have law enforcement backgrounds – or her own natural curiosity, Wagoner has long been fascinated by forensics in one form or another.
"I remember her even as a small child loving to play in the dirt," said her mother Brenda, a business instructor and adviser at Luna. "She was not a clean child. She wasn't a typical girl who wants to play with dolls; she wanted to explore."
"Dual credit is amazing. It sets you up for success."
Wagoner indulged various interests as a student at WLVHS, captaining the dance team and playing softball in addition to participating in academic clubs like Mathematics Engineering Science Achievement and Business Professionals of America. Teacher Valerie Villa-Lopez had gotten her interested in math since the middle school level. Another teacher, Christine Lovato, kept the momentum going and pushed her to explore the sciences via MESA. Wagoner also enjoyed watching the TV series "Bones," and daydreamed about the work the show's characters did. It prompted her to engage her dad in conversations about criminal justice.
It was on a school trip with MESA when she got the last push she needed. The West Las Vegas club visited the Office of the Medical Investigator in Albuquerque, and the proverbial lightbulb came on.
"That trip to OMI was big," Wagoner said. "That just solidified what I wanted to do and put into perspective what I needed to do to reach that goal. It made it more realistic, basically going through the lab and realizing that most of the time they don't go to crime scenes; they have stuff brought back to them. It educated me on what it really was. It just happened. (The OMI representative) talked about coming from a small town and she'd gone to a community college. It made me realize I could do this."
By that point Wagoner had been immersed in college-level coursework as part of LCC's dual-credit program. She was able to graduate magna cum laude with an associate degree in liberal arts at Luna the same semester she graduated from West.
"Dual credit is amazing," she said. "It sets you up for success. You get the feeling of what it's going to be like in college, the classes and what they expect out of you. It does teach you time management very well. That is something you need to excel at the higher level. Most of the time, dual-credit students are in clubs or sports or both."
"I think what I did get out of Luna, it really made me understand that education is going to be a big part of my life. I remember being in high school, most of the time it was sitting in classes. In college it was more discussion-based; it was more engaging … The electives expose you to different areas. You might not think you're interested in (certain subjects), but you end up really liking them."
Wagoner's experience at Luna gave her a boost that enabled her to hit the ground running at NMSU, where she quickly started digging into her majors while getting involved in a sorority and the undergraduate anthropology club.
Now, as another graduation approaches, she's looking at it like just another step forward. And she wants others to follow their own paths and see their own dreams to fruition as well.
"Know that you can do it," she said. "You just have to stay focused. Have an open mind of what you want to do. Whatever you engage yourself with, put yourself in position to do it. If someone tells you that you can't do it, prove them wrong."