Luna softball building with freshmen
August 31 2020
---
Martinez lone projected returner; recruits include three from WLV, one from Mora
By Dave Kavanaugh
Luna Community College
As of right now, Mary Jane Martinez is the lone returning starter on a young Luna Community College softball team to start the 2020-21 school year.
Martinez is a sophomore pitcher and third baseman from Carlsbad High School. Along with the rest of the Rough Riders, she saw her spring season cut short in March as the COVID-19 pandemic struck the country.
The disruption caused by the pandemic shook up the team roster, and Martinez emerged as the only member of last year's freshmen class to return to Luna. The versatile 5-3 right-hander figures to be one of the leaders of a Rough Rider lineup that will have a distinctly new look.
Head coach Steve Wallace, entering his second season at the helm, has been busy rebuilding the roster, signing 19 new players.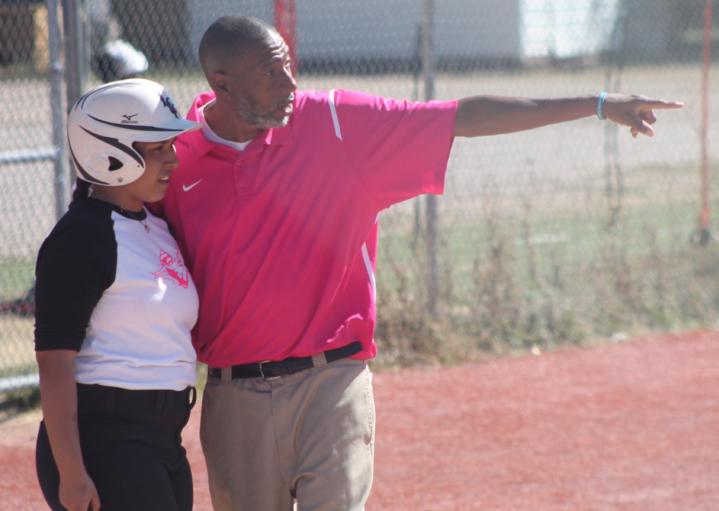 Wallace had certainly gotten some momentum going in his first season. Luna had won four of five games — including a three-game series sweep of Air Force Academy's junior varsity — to improve to 4-7 by March 10. In the last game the team played before the season was prematurely ended, the Rough Riders lost a 14-13 nailbiter at Langston University's JV squad. At the time, Luna's team batting average of .430 ranked fifth among National Junior College Athletic Association softball programs and the Riders had a winning home record.
Off the field, too, Luna softball had begun to develop a solid reputation for community service, as Wallace's emphasis on giving back to others had set the tone early on.
All that progress was put on a shelf in mid-March, when an extended spring break turned into a period of upheaval that included the cancellation of all spring sports across the nation.
With the NJCAA's decision to tentatively allow spring sports to proceed this school year, college athletic programs across the country have scrambled to pick up the pieces,
grappling with rebuilding issues unlike any previously encountered. For Wallace and Luna, the project has meant bringing in a host of new student-athletes and getting them to coalesce as a functional team in time for the season, set to begin in early February.
While Luna will miss the contributions of the veterans from the 2020 season, there will be much to look forward to this year.
Martinez had logged 11 hits, including three doubles, with seven runs batted in, in 11 games this past season. She had a batting average of .333 and a slugging percentage of .424,
with four walks and two stolen bases. As a pitcher, she went 3-3 with six starts, five complete games and one save. She had notched 23 strikeouts in her nine appearances with an earned run average of 6.56.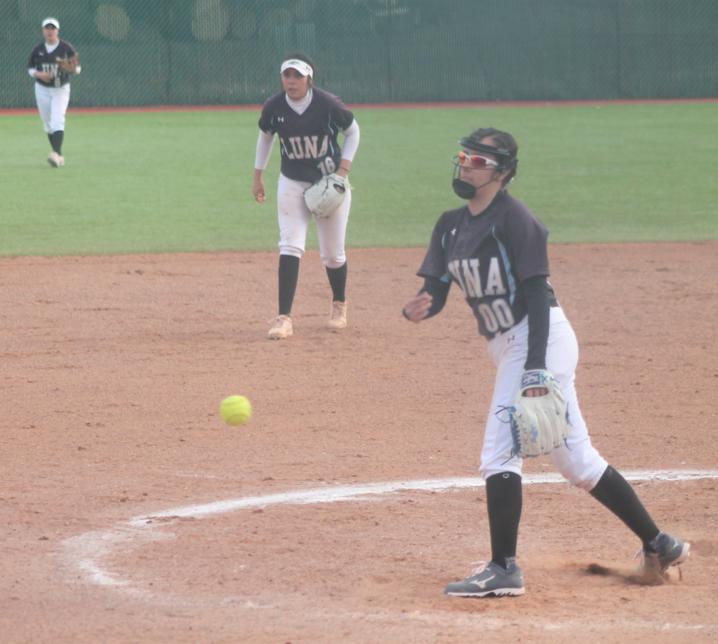 "MJ is one of the most structured and talented pitchers, and she'll probably pitch in a closer role this season," Wallace said of Martinez. "She has a great mindset. She doesn't get unnerved. She's the type of kid who gets it done in the classroom and on the field, and she leads by example. (At practice) she's the first on the field and last to leave. Hard worker, excellent communicator. I can see her excel in any walk of life."
There's a possibility two other returners will be back for the spring, but this will be a young group regardless.
"By design," in his words, Wallace has added pitching depth while stocking the roster with 12 more players from New Mexico — four from the Las Vegas area — and seven from Texas.
The locals include Justice Dimas, Amri Lucero and Marquisa Montoya of West Las Vegas, as well as Shanay Casados of Mora. For area sports fans, these Lady Dons and Rangerettes alumni are familiar names.
Dimas is a right-handed pitcher and outfielder, Lucero is an outfielder, and Montoya a utility player who pitches and plays infield and outfield. Montoya was a multi-sport athlete in high school, as was Casados, who plays infield and outfield.
"I expect great things from all the local players this year," Wallace said.
This year's Rough Rider squad, in alphabetical order:
Abby Ball, right-handed pitcher and first baseman, John Jay High, San Antonio, Texas
Baylie Baumann, catcher, Ponder High, Ponder, Texas
Jada Belton, catcher and outfielder, Houston, Texas
Shanay Casados, infielder and outfielder, Mora High, Mora
Nicole Chavez, catcher and left fielder, Albuquerque High, Albuquerque
Justice Dimas, right-handed pitcher and outfielder, West Las Vegas High, Las Vegas
Emma George, catcher, infielder and outfielder, Capital High, Santa Fe
Victoria Gonzales, right-handed pitcher, Tomball High, Tomball, Texas
Imani Hall, left-handed pitcher, outfielder and first baseman, Home High, Richmond, Texas
Aryanna Jimenez, outfielder and pitcher, Rio Grande High, Albuquerque
Amri Lucero, outfielder, West Las Vegas High, Las Vegas
Makayla Martinez, catcher and middle infielder, Belen High, Belen
Mckenna Medina, outfielder and second baseman, Manzano High, Albuquerque
Angelica Montenez, catcher and left fielder, Copperas Cove High, Copperas Cove, Texas
Marquisa Montoya, right-handed pitcher, infielder and outfielder, West Las Vegas High, Las Vegas
Mya Ortega, outfielder, Atrisco Heritage Academy, Albuquerque
Charmaine Othole, right-handed pitcher and third baseman, Grants High, Grants
Alexis Rubio, outfielder, Slayton High, Slayton, Texas
Reegan Wilson, right-handed pitcher, Hobbs High, Hobbs
With the exception of Martinez, all the Rough Riders are freshmen.
"These kids coming in have great attitudes, great work ethic," Wallace said. "A lot of them have been playing year round. I have some teaching to do, but they have a better softball IQ coming in. We have an abundance of speed; it's the kind of game I like to play."
Three players, he noted, clock a time of 2.7 or better to first base. The quickness on the basepaths figures to complement the expected pop from middle-of-order bats wielded by Abby Ball and Baylie Baumann.
"Our defense will be better," Wallace predicted. "We're going to be more athletic. And we have depth we didn't have the year before."
Wallace said he believes each player can and should have a role to play, whether it's left-handed pitching like Imani Hall or the fastball of Reegan Wilson.
"My main focus (in recruiting) was young ladies from New Mexico. They are underappreciated sometimes but have an abundance of talent."
This year, Luna joins Region 9, a move approved last year. If all goes well, the schedule will open on Feb. 4 at Frank Phillips College in Borger, Texas, and it should approach a total of approximately 40 games. If allowed, the prelude would be a series of scrimmages at New Mexico Highlands University.
For now, though, the team is working out in small groups, five players at a time, with hitting, conditioning and weights.
"I expect a real (good) season," the coach said.