Campus work paying off
October 1 2020
---
A campus that was closed over much of the past spring and summer translated into opportunity for Luna Community College's facilities department.
Seeking to limit foot traffic on campus as part of COVID-19 precautions, the college has imposed restrictions in one form or another since mid-March, at one point limiting access to only a few employees while shifting most operations to remote delivery.
While the changes presented challenges to everyone in the campus community, Luna made the most of the situation by devoting attention to several major campus improvement projects.
"A lot of things were going on while we were technically closed," said Matthew Cordova, director of facilities and physical plant.
Three significant projects were contracted out and overseen by the department. These were funded through a state appropriation after a capital projects committee request.
"It's separate from our facilities master plan," Cordova said, "but it is the first phase (of planned work). The rest fits into the facilities master plan."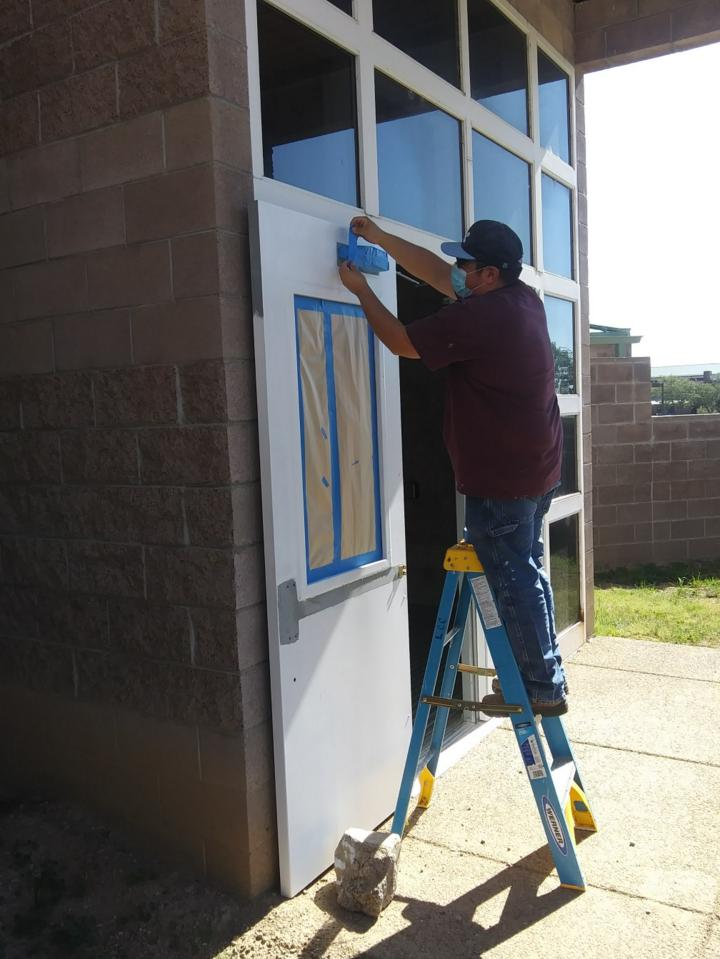 Four buildings — the Maria H. Paiz Administration Building, the technologies building, the Student Services Center and the former cafeteria facility — received new entry doors.
"Some didn't have handicap access; now they do," Cordova said, noting that some doors were excessively heavy and were so aged that replacement parts were difficult to acquire.
The new doors fix that problem, and as with other projects, they increase accessibility.
That is true for the replacement of sidewalks and entryways in front of the Student Services Center, a second major summer project.
"We had tree roots pushing up against the concrete, causing it to crack and creating points," Cordova noted. "That was causing a trip hazard."
Removing segments of sidewalks, re-forming and pouring new concrete to match the existing slabs.
"It fixed a lot of the issues we had," Cordova said. "My key point in making the requests for funds was accessibility."
A third major project was work on the administration building parking lot, which had been rutted with potholes, its pavement-to-sidewalk transition also deemed a potential hazard.
"Our maintenance crew would patch it, but with the weather, it never lasted long," Cordova said.
Over the summer, the lot was completely repaved and relined, and the transitional areas were evened out to allow for smoother access for pedestrians.
"We still have a lot to do," Cordova said, "but it's a step in a positive direction."
Aside from those major projects, Luna's facilities team found itself busy keeping up with maintenance of the buildings and grounds.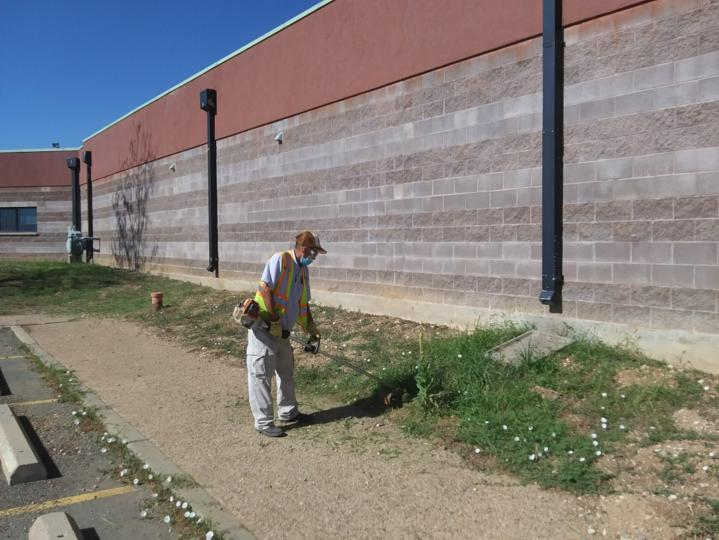 During the extended closure, electrician and technician Norman Sena kept up with maintenance of the heating, ventilation and air conditioning systems. That included replacing filters, removing and replacing corroded pipes, greasing motors and pulleys, replacing belts, and monitoring the systems either remotely or on site. Without students and employees in buildings, Sena was able to shut down units and make quicker progress.
Facilities employees labored to address flooring — shampooing carpet, stripping and waxing floors. They also completed painting projects, including the freshly installed doors.
As usual, they also worked to cut weeds and maintain the grounds — at times responding quickly to the curveballs presented by heavy rains and a hailstorm or two.
Of course, the facilities team has continued to shoulder the extra work necessitated since the COVID-19 outbreak began its incursion.
While custodians, for example, generally begin their shifts two hours earlier than other Luna employees, they've had to devote time and energy toward disinfecting and sanitizing the campus on a daily basis.
"We've had to be more careful overall," said maintenance employee George DeHerrera, "and getting used to wearing a mask has been difficult. I try not to get too close to anyone. Not shaking someone's hand has been different, but I still talk to people. I also carry sanitizer, something I never did before."
Cordova said the college purchased two electrostatic fogging disinfection machines that are used in a daily trek across campus. Disinfection protocols follow recommendations by the Centers for Disease Control.
"What they do gives the campus a fresh start every day," Cordova said of the custodians' work, which is documented through checklists on office doors.
"I feel very good about it," said custodian Ryan Gallegos. "I know we don't get the recognition, but keeping everybody safe is what we do. People don't have to worry about being in an unclean environment. Students can come to school and enjoy themselves and know we're doing our best to keep things clean and safe."