Overcoming struggles not new to Luna nursing student
December 6 2018
---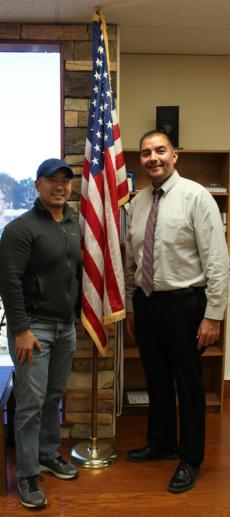 Ethan Tsao considers himself an underdog.
And he should. He has never had anything handed to him. He's had to work hard for everything he has. Thanks to his never-give-up attitude and good people around him, he's finally seeing light at the end of what has been a very long tunnel.
Ethan Tsao is a second-year nursing student at Luna Community College. He transferred over the summer from Central New Mexico College, where he began his studies in the field. He is expected to earn his RN degree in May 2019. For most college students, their story would start and end there. Not for Tsao.
A native of Taiwan, Tsao and his sister came to America in July 1990. Like many people from other countries, they were simply searching for a better life. Tsao earned his U.S. citizenship this past October.
"My mom wanted my sister and me to have a better education, so we came to America," says Tsao.
A 1995 graduate of Albuquerque's La Cueva High School, Tsao enrolled in the engineering program at UNM. However, in the back of his mind, he always had something that concerned him.
"I always knew if I graduated from college, I (still) couldn't work legally," says Tsao. "Depression eventually took a hold of me, and I dropped out of my junior year."
Tsao says that the struggles of always being part of living in-the-shadows and feeling that he didn't belong played a role in his depression.
"An aspect of my depression is that I was always afraid to make a mistake," says Tsao. "I work with a therapist. Part of the reason I suffer depression is going through legal issues of the immigration process. I see the light at the end of the tunnel; I still have the occasional blues, but every day is getting better. It is situational depression. If you go through hard times, you are going to be sad. Now I can go after the American dream. The American dream does exist; the opportunity is there. You just have to work hard."
And work hard is what Tsao has done all his life.
"During my 20s, I worked three jobs, they were all labor jobs," says Tsao. "I did everything on my own; I never asked for help."
Even if Tsao never asked for help, New Mexico has always been good to him, welcoming him, he says.
"Everywhere you go in New Mexico, there is no discrimination when it comes to opportunity and good-hearted people," says Tsao. "This is what makes this state great."
It's obvious Tsao thinks highly of New Mexico. Just wait and see what he has to say about Luna.
"Maxine Hughes (Luna nursing director) and Susan Grohman (Luna nursing instructor) were both very welcoming," says Tsao. "Students here have always made me feel like I was part of a family. Fellow nursing students Chris Trujillo and Vanetia Gonzales have assisted me with my studies, and Theo Chavez and Chris Tafoya would offer me rides when my truck had broken down. Nursing students here have each other's back. To keep this tradition here for future nursing students would be great. I recommend this nursing program to other students. It's about student success here."
After graduation, Tsao wants to be a nurse in an emergency room, a cardiac unit or a medical surgical unit.
"I always knew education was going to take me where I knew I wanted to be," says Tsao. "My mom always encouraged me to go back to school. I'm extremely happy; I don't have to hide in the shadows anymore. I can just be proud because I'm an American citizen now."
Tsao, 41, had been working on citizenship since 2012.
"Everywhere you go in New Mexico, there is no discrimination when it comes to opportunity and good-hearted people," says Tsao. "This is what makes this state great."
"I'm very sympathetic to people that are going through what I went through," says Tsao. "I am very lucky. I notice when someone is down. I want to work with homeless and the most vulnerable population amongst us. I advocate for people that can't speak English. One day I hope to achieve my dream as a family nurse practitioner. First, I want to go work in a big city and learn and come back to a small town in New Mexico. This is a great state to make a difference. We need to bring up our education and health care. New Mexico has been great to me, and Las Vegas has been exceptional."
Tsao has simple advice to others who may face a similar path as he has.
"Education is the way out of any situation," says Tsao. "Finish high school. Even when I was doing labor work, people would encourage me not to stop my education because there is value in education."
Tsao has embraced being an underdog. It's this role that has shaped him to the person he is today. He knows better than most that underdogs can win.