Nursing
December 16 2020
---
Do you have a passion for helping others? Maybe a career in nursing, which is projected to have a high demand for professionals well into the next century, holds your dream job.
Luna Community College's associate of applied science degree in nursing meets state requirements, preparing you to take the NCLEX nursing licensure exam and become a registered nurse.
After achieving licensure, the program graduate will qualify for jobs as a registered nurse. This includes jobs in such settings as hospitals, clinics and doctors' offices, home health, hospice, public health, behavioral health, correctional facilities, long-term care facilities, rehabilitation centers, insurance assessments and review, schools and drug and alcohol treatment centers, to name a few.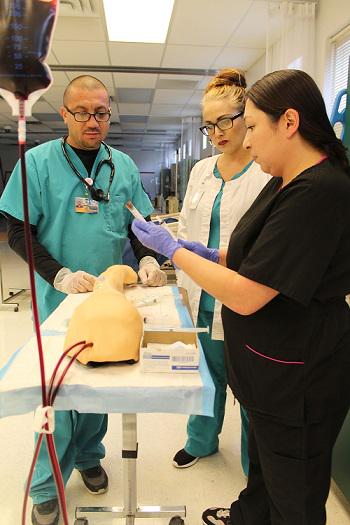 Our faculty includes talented nurses with decades of real-world experience. They bring extensive knowledge of the content plus practical savvy from careers committed to patient care.
Our curriculum includes classroom, laboratory and supervised clinical instruction. The program culminates with a one-on-one practicum experience in real workforce settings.
Luna's nursing program offers a state-of-the-art simulation laboratory in which you can learn procedures and treatment techniques for adult, pediatric and infant patients. Build your skills and develop confidence before you begin clinical rotations. Luna has developed partnerships with a number of health care entities, enabling you to gain invaluable hands-on experience in various clinical settings.
Luna offers the common New Mexico Nursing Education Consortium curriculum, and the program is approved by the New Mexico Board of Nursing. Luna's associate of applied science in nursing program is accredited through the Accreditation Commission for Education in Nursing.
— Maxine Hughes, Nursing