Blood drive a success
December 18 2020
---
Luna students assist in collection efforts
A number of Luna Community College nursing students and members of the college's Student Nurses Association helped conduct a local blood drive recently.
The Luna contingent supported the Vitalant blood donor event, held for a four-hour period at the Abe Montoya Recreation Center in Las Vegas. Organizers said the event was a success, with all appointments for blood donation filled well in advance and several walk-ins also accepted.
Several Luna SNA members also donated blood themselves.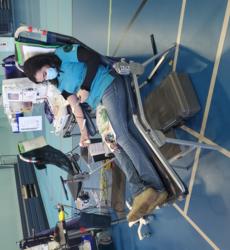 "I am proud of the SNA members and all of their efforts," said Kimberly Sena, a Luna nursing instructor and advisor to the club. "We would like to thank the SNA and community members who donated blood. Blood banks are facing unprecedented shortages in this pandemic, so donations from the drive will help a lot of people. We are extremely grateful for not only meeting our donor goals but surpassing them."
The goals were to collect 17 whole-blood donations and four double-red cell donations, Sena noted. The event ended up collecting 28 whole-blood donations and four-double reds.
The students supported Vitalant's on-site staff by promoting the event, then welcoming and signing in donors. They also helped lead a drive to register potential donors for a DKMS bone marrow and stem cell registry.
Participants included Nicole Abeyta, Myranda Aragon, Amanda Baca, MaRian Brotherton, Donika Chavez, Miranda Esquibel, Naomi Gunn, Elizabeth Herrera, Amy Howell, Alexis Lucero, Destiny Martinez, Josiah Martinez, Marissa Martinez, Joleen Mascarenas, Jaklynn Ortega and Gemenia Wofford.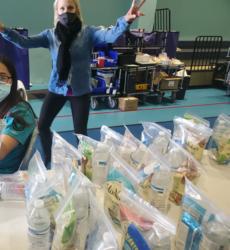 In light of the COVID-19 pandemic, Vitalant has instituted some enhanced safety measures for these events. Check-in now includes a temperature check. Donors and staff are required to wear face masks. Social distancing is used in waiting areas, and appointments are encouraged. Staff sanitizes all high-touch areas often and after every collection, according to the organization. In addition, blood and platelet donations are tested for COVID-19 antibodies, with donors being informed of results. Vitalant is also coordinating donation of convalescent plasma from those who have previously tested positive for and recovered from COVID-19 to help those actively fighting the virus.
The next scheduled Vitalant blood drive in Las Vegas is Jan. 22, also at the Abe Montoya Rec Center.