Luna developing state-of-the-art training center on campus
December 18 2020
---
Luna Community College is one-step closer to opening a Law Enforcement Training Center as the Luna Board of Trustees, on Tuesday, approved the requisition for purchase of a firearms training system and a driving simulator.
The Law Enforcement Training Center, which could be ready for students to take classes as early as the beginning of the second eight-week schedule in the spring semester, will be under the umbrella of the Criminal Justice Program. Luna's research shows that the law enforcement community is looking with finding smarter and more inexpensive ways of conducting state-mandated training.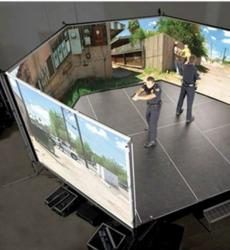 "The built-in certifications for each simulator is nationally certified with 36 states being articulated and four of the states are required to have this type of training," said Luna's Lita Bernal who will oversee the training center. "New Mexico is one of those states which recognizes the curriculum of each training scenario."
Luna plans to submit the provided curriculum to the State Department of Public Safety. The articulation will then allow Luna to issue national certification to the law enforcement community for specified training.
The simulators offer a multitude of different courses and trainings. Depending on the needs of the law enforcement community, the firearms simulator can have one officer train at a time or an entire SWAT team train within one scenario. Class sizes will vary for each of the scenarios that will be offered.
"The current needs of the state's law enforcement is advancing and mutating into new paradigms of thought and action," says Bernal. "The new community policing is here due to recent developments of COVID-19 and events leading up to protests being nationally televised."
Criminal Justice Program faculty will be doing a lot of the recruiting.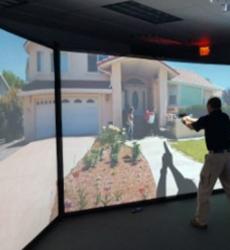 "The faculty will first target the law enforcement agencies throughout the state," says Bernal.
According to Bernal, in conjunction to recruiting within law enforcement, classes will also be available to dual-credit high school students with the assistance of their respective high counselors using media such as Zoom. To assist with the recruitment efforts, a live stream will be placed on Luna's website for anyone who has interest to stream into live action of both simulators.
Bernal says that short term goals are to provide the best training opportunities for law enforcement agencies within the college is training scope. One long-term goal is to revolutionize training for law enforcement.
According to Bernal, the driving simulator approved by the Luna BOT is the newest and latest in state-of-the-art technology; Luna will be the first in the region to have this simulator,
"It does not get better than this," said Bernal.
Luna will provide the public with information as the Law Enforcement Training Center develops.