Digital tablets aiding online instruction at Luna
February 17 2021
---
By Dave Kavanaugh
Luna Community College
Instructors and students at Luna are both benefitting from the use of Kindle Fire digital writing tablets paid for through grant funding from the Regional Development Corporation and Los Alamos National Laboratory.
The Regional Development Corporation (RDC), a Taos-based 501c.3 non-profit organization, awarded a $5,000 grant to Luna's STEM department in March 2020 that went toward the purchase of digital writing tablets for online instruction. With funds remaining from the original grant this semester, STEM Director Francisco Apodaca arranged for purchase of additional Fire tablets for full-time instructors across campus.
"We received a call from Mr. Val Alonso, Executive Director of RDC, last March telling us that the RDC had received funding from Los Alamos National Laboratory, to assist local entities with COVID-related disaster funding," Apodaca recalled. "I thought about how we could best utilize the funds and thought about our situation and having to go to an online format in teaching."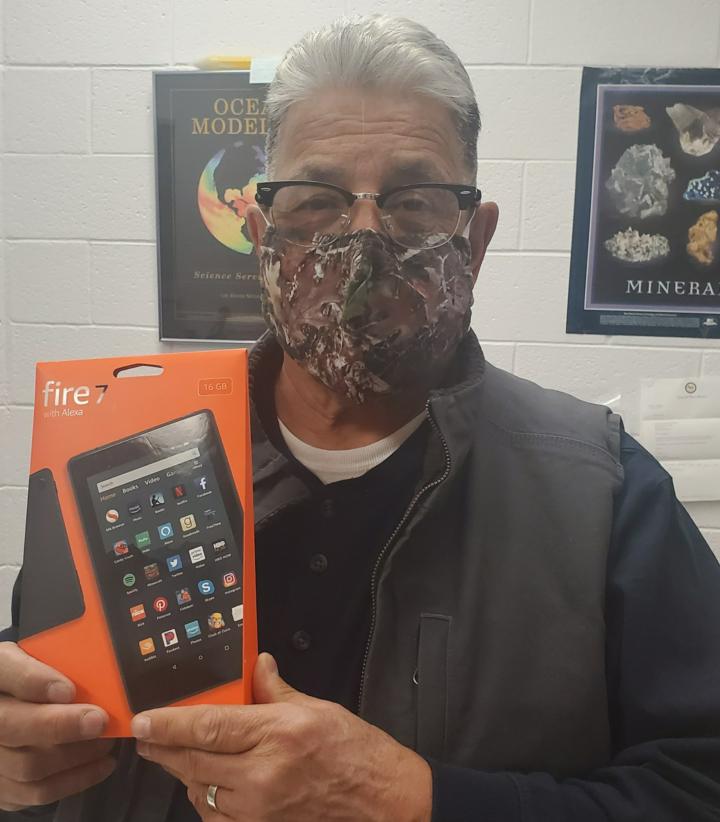 "I had watched a broadcast of a local school on the public television station, and I saw that the teacher stood in front of a white board and wrote out her lesson. You really had a hard time making out what they wrote on the board. So I had an idea about using a digital writing tablet in our online classes so that students would see the handwritten notes on the screen."
Apodaca said that led to investing in the digital tablets, which were distributed to the department's instructors.
"It was a big hit," he said. "Our instructors used them to supplement their instruction, not only with writing their notes and lessons, but for formulas and working out mathematics problems (and for) editing their students' papers."
"At the end we had money remaining in the grant," Apodaca said, "so I asked Mr. Alonso if we could use the remaining funds to purchase tablets for our full-time instructors and got his okay. We are hoping that our instructors can utilize the tablets, much in the same way they use the digital writing tablets – that is, to supplement their classroom instruction."