Rough Riders return for spring games
February 23 2021
---
PLAY BALL!!!
David Amaya and Dusty Sipe blasted home runs to lead Luna Community College to victory over New Mexico Military Institute on Saturday in Seminole, Texas.
The bigger news?
The Rough Riders (1-3) finally got to play again after nearly a full year without competition courtesy of COVID-19. The coronavirus pandemic forced an early end to the 2020 season on the second weekend of March, leaving Luna players and coaches along with their counterparts across the country without an opportunity to enjoy the sport they love.
But this past weekend meant new hope and new chances for the Rough Riders, who can now practice under stringent restrictions at home but must play the entirety of their 2021 schedule on the road.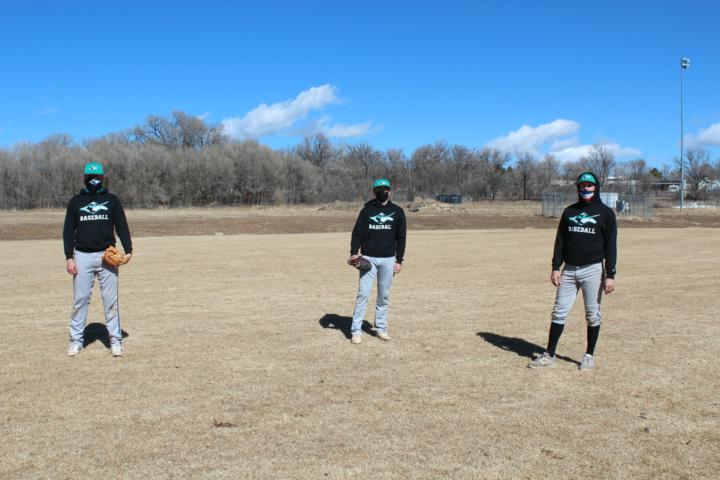 "It was very exciting for everyone; there was a lot of adrenaline and emotion," said Luna fourth-year head coach T.C. Nusser. "Because of the snow, we had not practiced outside for a week, so we got off to a rough start. We settled down after the first game and it was nice to see that we competed with them. We have to get back to work, but I like where we're at."
NMMI came into the weekend series with a 6-0 record and quickly put 13 runs on the scoreboard – including a grand slam by Edwin Martinez-Pagani and two other home runs – en route to a 16-0 shutout in game one. But Luna rallied in game two as Sipe roped a two-run homer to stake the Riders to an early lead. Three RBI singles by the Riders made it 5-1 by the fourth inning, and Amaya's two-run blast in the top of the fifth helped Luna pull away for an 8-3 win.
On Sunday, NMMI (9-1) prevailed 8-7 on a walk-off homer by Mario Chacon before taking a 12-2 verdict in the series finale. Brandon Zwiener had tied Sunday's opener with a three-run home run in the fifth inning. Sipe rounded out a strong offensive weekend for Luna by hitting a solo blast in the third inning of Sunday's nightcap.
"I loved every minute of it (live competition)," said Nusser. "It brought back emotions and awesome feelings. It's nice to get back to do what you love especially after it's taken from you. You realize how much you love the game. It brought back the passion for the game."
The Rough Riders take on Lamar Community College this Saturday and Sunday in Lamar, Colo.