Former Luna student Saige Martinez develops search and rescue beacon
March 2 2021
---
Luna 2019 mathematics graduate Saige Martinez has developed a search and rescue beacon that provides first aid and communication to a lost person. Martinez developed that while working with Technology Solution Lab in Albuquerque.
The device measures heart rate, blood oxygen levels and GPS location and has an LED light so the person can see it at night.
"I was part of a funded project for a training I had done through a deep dive coding class at CNM," said Martinez. "I was the main person on the project and I had a supervisor that guided me."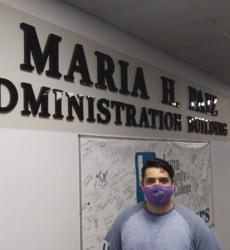 Martinez recently got some more good news.
"We just got approved from the City of Albuquerque for phase two," said Martinez. "Phase two includes a network of devices that will be dropped throughout the location of the lost person."
Martinez is a 2020 Highlands graduate in mathematics and intends to earn his masters in computer science at Highlands.
Martinez' accomplishment was celebrated in a KOAT News segment, recently.
"I think community college is the way to go and for Las Vegas and northern New Mexico Luna is the way to do it," said Martinez. "Dr. Rita Surdi was my advisor at Luna, and she was the best. There is a lot of logic that goes into what I am doing, and you have to have a firm grip on math. It is invaluable when it comes to programing."
On advice to current students at Luna, Martinez had this to say: "Follow your heart."
Martinez is a 2013 Robertson High School graduate.