'A stroke of luck' - Mondragon brothers got good start at Luna
January 18 2019
---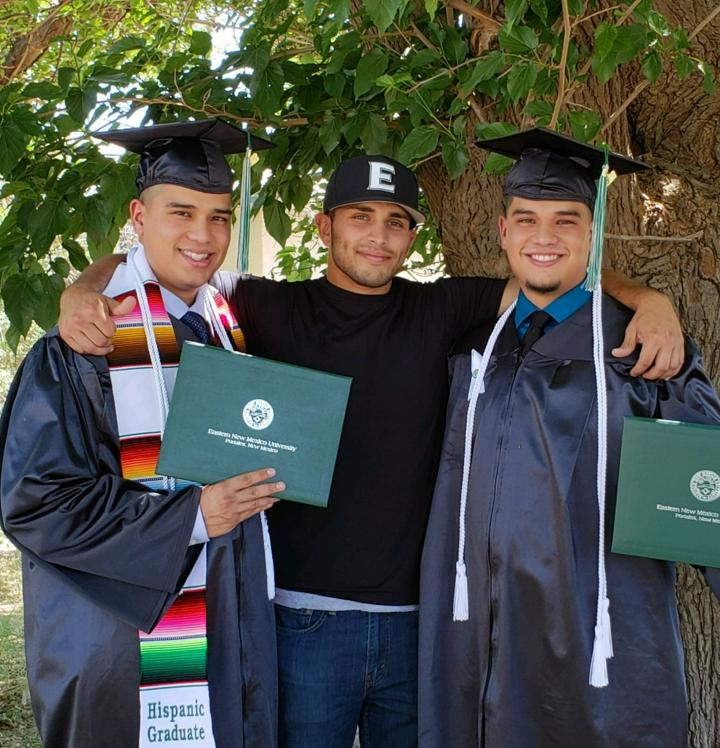 Jose Mondragon has been good at math and science for a long time. So it's a natural conclusion that he'd pursue a career in engineering.
But it took the opportunity presented via Luna Community College's baseball program to give him a kick start. And it took the caring approach of at least one LCC faculty member to guide him along his way.
"Attending LCC was a stroke of luck for me," Mondragon recalled of the days after his graduation from Albuquerque's Valley High in 2013. "I intended to go to the University of New Mexico (but) I still wanted to play baseball past high school. The program at LCC allowed me to continue to do that, so I chose to go to LCC instead. It turned out to be a beneficial choice for my future career."
"The experiences at Luna taught me very well about how college works and what it takes to be successful in college," he said. "Attending Luna helped strengthen me for my future college years."
Betsy Sanchez, who oversaw the pre-engineering program at the time, was a particularly helpful ally. "She always made sure I was in the correct classes and was making sure to do all my work to the fullest of my ability," Mondragon said. "She also secured scholarships for my brother (Davi) and I to continue our education at Eastern New Mexico University, which set us up for an amazing future. Her kindness also extended to any other LCC student that she talked with … I will be forever grateful for the help (she) gave me."
"Attending LCC was a stroke of luck for me"
"I decided to pursue the engineering field because I knew I had strengths in math and some sciences," he said, noting that he'd been enrolled in Advanced Placement math classes throughout high school and did well in them. "I figured that would be the field that would best suit my strengths. The design and creating different things is what piqued my interest the most."
  Although he had a natural aptitude for math and science, Mondragon encountered his share of challenges in finishing his studies. "The biggest challenge I would talk about is the semesters I took an overloaded class schedule to maintain my double major," he noted. "I think the credit hours I took was around 18 to 20 for two semesters. The whole school year was comprised of 12- to 15-hour days of classes and homework to stay up to date with my classes. That year took a lot out of me, but it sure has paid off."
Upon graduation from ENMU, Mondragon secured a job with Oncor Electric Delivery, an electric transmission and distribution company in north-central Texas. "I work on the protection equipment for high voltage transmission and distribution equipment," he said. "This job is very fun and technical. I feel accomplished every day from my work and am very happy with the job."
Mondragon said he'd like to either get further into professional engineering or continue his master's in electronic engineering. He's grateful to Sanchez, whom he called the best teacher, and to his parents. "My mom (Juanita Lujan) always pushed me educationally and made sure I was continuing my education," he said. "My dad (Frank Mondragon) showed me how to work hard and have perseverance and drive. My hard work ethic is due to him."
"The best advice I could give high school students is to always continue your education," he said. "I can promise you that if you go to college and take it seriously, it will create a tremendous future. College is definitely the hardest thing I've done, but it pays itself off in great value."
 
---
From his childhood days, when he'd accompany his dad into his mechanic's workshop, his young mind full of wonder about how things worked, Davi Mondragon was a natural fit for the world of engineering. In school, he did well in math and "loved to build and design things in classes like wood and metal shop."
Today, Mondragon is employed as a technician for Oncor Electric Delivery in Texas, getting to do what he loves – using his mind and his hands to help provide a vital service to the public. Mondragon, who used his education at Luna Community College as a springboard to an engineering degree at Eastern New Mexico University, said it's "an extremely fun and fulfilling job," that's given him opportunity to build his career. He also is considering earning his master's in engineering and potentially working his way up in the company or moving to a research position at a national laboratory. "The sky is the limit," he said.
Like his brother Jose, Davi graduated from Albuquerque's Valley High. He spent plenty of time growing up in Taos, his father Frank's hometown. His parents – Frank Mondragon, a mechanic who ran his own business, and Juanita Lujan, a Duke City native who earned an accounting degree from UNM – both were major influences, albeit in different ways. Juanita, he said, "always instilled in me the importance of education." Frank taught "the importance of a good work ethic and gave me experience working with my hands, which was very fun for me."
Between its affordability and the fact it provided an opportunity for him to play collegiate baseball, Luna emerged as the college of choice for Mondragon. But he got more out of the experience than he'd anticipated.
"My experience at Luna played a very important role in where I am today and what I was able to do after I left," he said. While he felt confident in his academic abilities going into college, Mondragon was unsure of what to do with his life beyond graduation and he didn't know what he needed to do to get there.   "The great instructors at LCC and my advisor helped me not only build on my confidence as a student but find and maximize opportunities that set me up for the future," he said. "The personal and one-on-one relationship with everyone at Luna was amazing and is something you just don't get from large universities or junior colleges. At the end of my community college career, I had a lot of experience on my resume and was set up to go to an excellent university."
In addition to completing his basic core classes and getting individual attention at Luna, Mondragon benefitted through extracurricular activities like visiting university campuses and the state legislature, serving as a student ambassador, and working on a summer research project.
"Luna helped me find out more what I wanted to study when I did move on," he said. "I always had a general knowledge of what I wanted to do but in the end I had a better focused idea of what to study when I moved on."
Advisor Betsy Sanchez, Nichole Collins and Lorraine Martinez proved especially helpful. "They all truly cared about my future," he recalled, "and without a doubt I can say that I wouldn't be where I am today without them."
Sanchez and Collins, he said, "inspired me to dream bigger … and helped me move on to a four-year university." Sanchez introduced him to the field of engineering and got him to look at several universities. Collins helped interest him in computer science, in which in he attained certification.
After graduating from Luna in May 2015 with as associate degree in pre-engineering, Mondragon went on to earn his bachelor's in engineering and computer science this past May.
"The aspect of understanding how things work and developing new ways to improve products with new technology and designing completely new products intrigued me the most about engineering," he said. "Also, being able to improve people's lives through this gives me satisfaction."
"The advice I have for high school students is to find something that you love doing and work hard at becoming the best at it," he said. "Life is too short for you to be mediocre and not give it your all. Never make any excuses for yourself because no matter how bad it is, there are others out there who are not getting the opportunities you're getting, so it is important to make the most out of them."