Two Riders all-region in baseball
June 4 2021
---
Several Luna student-athletes among top 10 in regional stats
By Dave Kavanaugh
Luna Community College
Infielder Dustin "Dusty" Sipe and pitcher Ruger Bravo of Luna Community College were both honored with All-Region 9 postseason honors this spring.
Sipe, who split time at first and second base, is a sophomore from Aztec, N.M. He was named first-team all-region. Sipe hit .385, including a team-high 14 home runs, nine doubles and 42 runs batted in over 38 games played this season. Sipe ranks among the top 10 in Region 9 for batting average, home runs, walks, on-base percentage, slugging percentage, hits by pitch and sacrifice hits. And he's no slouch on defense, having tied for first in double play involvement with 23.
Bravo is a freshman from Albuquerque's Manzano High. He was named second-team all-region. Bravo is credited with a 5-1 record with 54 strikeouts and an earned run average of 4.53 over 51.2 innings pitched this year. The ERA is second best among all pitchers in Region 9, and the win total also ranks in the top 10.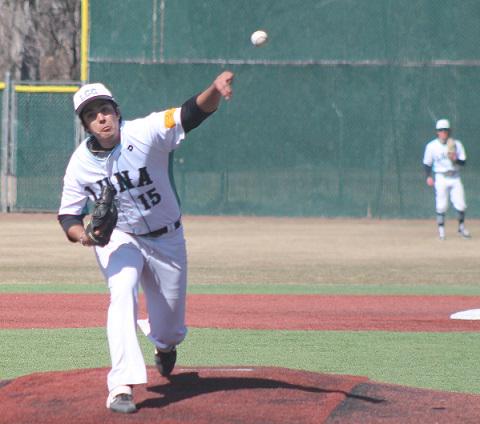 A number of other Luna student-athletes also ranked among the top 10 statistically this past season despite not having a full schedule of games.
LUNA'S REGION 9 LEADERS (TOP 10)
BASEBALL
Pitching, earned run average: 2. Ruger Bravo, 4.53
Pitching, saves: 2. K.T. Gearlds, six
Pitching, starts: T-4. Logan Wilson, 11
Pitching, wins: T-8. Ruger Bravo, five
Pitching, complete games: T-8. Ruger Bravo, one; T-8. Tony Limon, one
Hitting, batting average: 10. Dusty Sipe, .385
Hitting, home runs: 8. Dusty Sipe, 14
Hitting, walks: T-8. Dusty Sipe, 29
Hitting, on-base percentage: 6. Dusty Sipe, .520
Hitting, slugging percentage: 3. Dusty Sipe, .838
Hitting, hit by pitch: T-9. Brandon Zwiener, 10
Hitting, sacrifice hits: T-3. Matthew Gelwick, three
Fielding, putouts: 10. Milo Behrens, 194
Fielding, assists: 1. Tony Limon, 94; 9. Francisco Ochoa, 58
Fielding, double plays: T-1. Dusty Sipe, 23; 3. Tony Limon, 18
SOFTBALL
Pitching, complete games: T-8. Mary J. Martinez, five
Hitting, triples: T-5. Marquisa Montoya, three
Hitting, hit by pitch: T-8. Makayla Martinez, four
Fielding, fielding percentage: T-1. Victoria Gonzales, 1.000; T-1. Mary J. Martinez, 1.000; T-1. Angelica Montanez, 1.000; T-1. Marquisa Montoya, 1.000; T-1. Anahi Ruiz, 1.000