Congresswoman Leger Fernández visits Luna Community College
June 4 2021
---
Congresswoman Teresa Leger Fernández, who represents New Mexico's Third Congressional District, recently visited Luna Community College. Leger Fernández is in her first term in Congress.
A native of Las Vegas, Leger Fernández said she is very proud to represent northern New Mexico.
"You cannot describe the emotion I have about having the awesome responsibility to represent this place that is not only the beautiful place I call home but the place that is lodged in every cell of my memory and of my body," said Leger Fernández. "This is the place that I am from, and the idea that I can take that to D.C. makes me very proud."
Leger Fernández said she has already met personally with President Joe Biden.
"It is wonderful to be with a president who recognizes that now is the moment for us to redirect where this country is headed," said Leger Fernández. "He understands that places like Las Vegas, that have working families, are our future and we need to reinvest in them. I got to meet with the president in the Oval Office as part of the Congressional Hispanic Caucus. Every issue we raised to him — from investing in colleges so we would have Latino doctors, nurses and medical technicians to addressing the issue at the border — he was receptive. He was fun to talk to. It was like having a conversation with someone who cares about your community."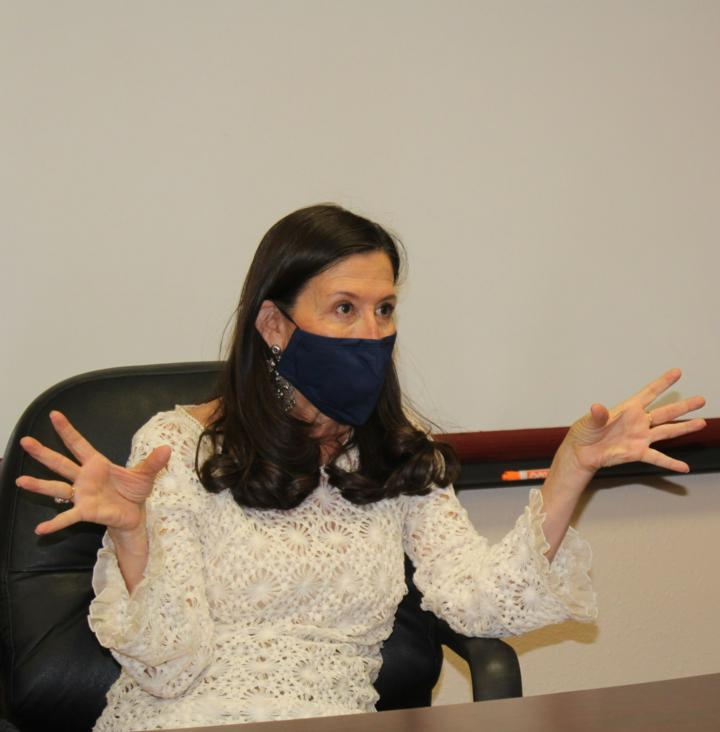 Continued and increased funding to Luna and other colleges is a goal of the congresswoman.
"What I can do is at a national level is increase the amount of funding that is available for places like Luna; increase the amount of funding for students who come to Luna," said Leger Fernández. "When you have those additional resources, then Luna can grow and pursue the kinds of courses and programs that it knows will make a difference for students."
Leger Fernández said she enjoyed her visit with Luna.
"One of the things I liked learning while I was here was how involved Luna is with the surrounding communities," said Leger Fernández. "What I understand from my tour, is that Luna sees itself as part of the community. It honors the 'community' in 'community college.'"
The congresswoman said Luna plays an important role in higher education.
"I see community colleges as a vital place because this is where students are going to feel comfortable because they are in their own community," said Leger Fernández. "Students can also choose how far they want to go. 'Do I want to get a certification or do I want to get my two years here and take it to a higher level?' Luna gives choice, options and opportunity."
Leger Fernández said she will take what she learned here back to Washington, D.C.
"I came personally to Luna so that I could hear what Luna is doing and what Luna needs, and I want to take that story with me to Washington, D.C., as an example of how we need to invest in community colleges," said Leger Fernández. "He (President Biden) is going to listen, our colleagues on the education and labor committees are going to listen, and my Democratic caucus is going listen. I will make sure I mention Luna to the Speaker."