Luna's Amber Gonzales headed to law school
July 20 2021
---
Gonzales accepted at Pepperdine; Luna's criminal justice program credited for opening doors
If there was not a pipeline before from Luna Community College in Las Vegas, N.M., to Pepperdine University in Malibu, Calif., there is one now.
Amber Gonzales, a 2019 Luna criminal justice graduate, was recently accepted to Pepperdine University School of Law.
"Luna opened many doors for me," says Gonzales. "I was able to do internships with the City and State Police Department as well as the district attorney's office. All three places intertwined and I was able to learn a lot on report writing and investigations. I have to give major props to Luna's criminal justice instructor Jason Killian, who encouraged me along the way."
Killian uses real-life criminal justice scenarios in his teaching methods and courses.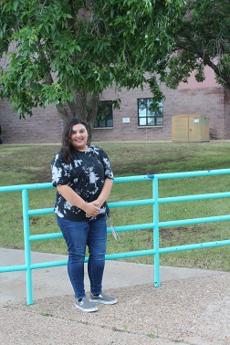 "After I graduated from Robertson High School in 2016, I went to school at Highlands on a Dean's Scholarship, but I had this drive to go into criminal justice, and my mom advised me to attend Luna," says Gonzales.
That advice may have been a game-changer.
"I've never been more confident on what I have wanted to do," says Gonzales.
"Not only is the criminal justice program great, the college's (Academic Center for Excellence) lab helped me out a lot as well, especially when it came to writing papers. In retrospect, I should have utilized the ACE lab a little more."
After graduating from Luna, Gonzales went on to earn her political science degree in pre-law this year at Highlands. Gonzales is currently a tutor with Luna's ACE lab as she prepares to start her law studies at Pepperdine in January of 2022.
While at the district attorney's office, Gonzales says, Dr. Twila Quintana and the late District Judge Matt Sandoval also led her in the right direction.
"They took time to talk and guide me," says Gonzales. "They gave me a road map on what I needed to do to get into law school."
She says that California is like a second home for her as she has a sister and other relatives who currently live there.
"I hope to become a defense lawyer; eventually I want to help people that are on death row," says Gonzales. "A lot of lawyers are in it for the money; for me it is a passion. I want to help people. One day I plan on coming back home."
Gonzales wants to mentor others.
"I've had some trials and tribulations in my life," says Gonzales. "School is difficult, but there is help out there. In the end, if you have ambition, you will make it."
Gonzales says you never know what surprises you can find in your own backyard.
"Don't be embarrassed of your hometown," says Gonzales. "Look at the help Luna has given to me; professors care about you."