Luna's Laura Sandoval recognized at State Capitol
February 25 2019
---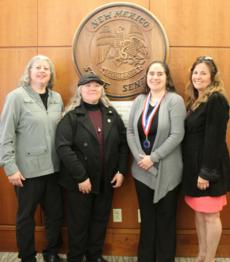 Luna Community College student Laura Sandoval, along with other students from various two-year colleges, from throughout the state, was recognized recently at the State Capitol for earning Phi Theta Kappa New Mexico All-State Academic Team honors.
"It feels like all the hard work is paying off," said Sandoval. "There is so much on my mind that I haven't processed everything yet."
Sandoval is a first year nursing student and this is her second stint at Luna. She graduated from Luna in 2012 with a Fire Science degree. During her time away from Luna, Sandoval worked as a firefighter and as an emergency medical technician for Superior Ambulance, and currently works for Mora County Ambulance. These two jobs influenced her to apply to nursing school.
"I want to help people," said Sandoval. "I want to make them feel better. I love the nursing program. It's challenging, but I love challenges."
Sandoval, has a 3.8 grade point average and 150 combined college credits from Luna, Highlands and Santa Fe Community College.
"I really like Luna because of the small class sizes, everyone is friendly and people go out of their way to help you succeed," said Sandoval. "Luna's colors are similar to my high school colors which are turquoise and black."
Sandoval is a 2010 Del Norte High School graduate. She came to Luna on a softball scholarship.
"What really kept me in the area was joining the Gallinas Volunteer Fire Department and the great friends I met," said Sandoval. "It's really like having a second family."
Now, her circle of friends are her fellow nursing classmates.
"We've become a family and help each other out in study groups," said Sandoval.
Sandoval said the tougher the situation, the more comfortable she is.
"I want to be the head nurse in the emergency room," said Sandoval "I don't mind the adrenalin rush when people are at their most need."
Eventually Sandoval wants to be an airlift nurse.
"She is a very fair and balanced person and looks at the bigger picture," said Luna Nursing Director Maxine Hughes. "She's very smart and dedicated and is a clear thinking person.
She will be a very compassionate and a strong advocate for her patients. She is very caring. She's calm, cool and collected and can think under pressure."
Sandoval's talents will probably stay local—at least in the short term.
"There is also a shortage of nurses here, I will be able to help out with that," said Sandoval.