Luna's Travis Baca excited about education, future
October 14 2018
---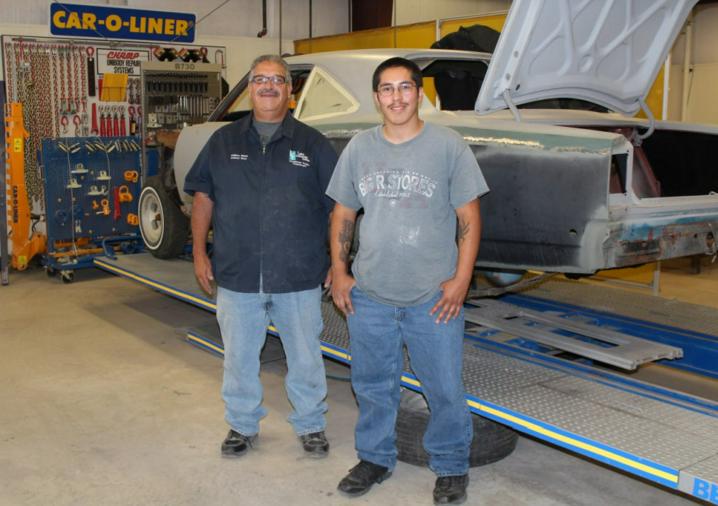 Travis Baca wants to open up his own auto collision shop one day. Luna Community College is playing a big part in making his dream a reality.
In December, Baca will be graduating with a certificate in automotive collision repair technology. It will be his second certificate that he will have earned from Luna. In 2017, Baca earned an automotive technology certificate. And to add to his already accomplished vocational endeavors, Baca earned an American Welding Society certificate last semester. Baca, 2013 Robertson High School graduate, started at Luna in the fall of 2014.
"Luna has been pretty good for me," says Baca. "Everything has gone well for me. My instructors have been tough on me, but in the end they want what is best. They have taught me how to do things right."
Baca is excited about the future: "I want to do quality work and build my name in the industry. I would love to work for a company such as Car Crafters in Albuquerque to learn about the industry and how it works. And at some point go on my own."
Baca says he loves to work on vehicles. One example of this is Baca's work on his 1997 Dodge Ram 1500. "I've gone from replacing the engine transmission to completely
replacing the body panels, rust repair and now I am getting ready to paint it."
Although Luna is helping him with his official certificates, it was with his father Anthony that he got the first taste of being around cars.
"I remember I was around 9 or 10, and my dad had me help him with water pumps, alternators and doing engine swaps," recalls Baca. "I love working on cars with him. He taught me a lot. My dad worked for Ford Company back in the day."
"Unless you come to school here, you will never know how good Luna is."
Baca arrived at Luna with plenty of knowledge and plenty of passion.
"I can see myself working in this industry for the next 30 years and honestly I wouldn't even mind it," says Baca. "I love cars that much."
Baca says working on vehicles is his primary interest in life. "You can ask my dad. If my truck breaks down, I'm out there working on it until late in the evening," says Baca.
"And if I can't get it done at night, I wake up, and first thing I'm doing is working on it again."
Baca says that the instruction he has received from Gene Sandoval, Paul Vance, Donnie Adkins and Anthony Baca was good — very good.
"I would give them a 10," says Baca. "They have their own way of doing things. They have all worked in the industry, and that makes me feel comfortable that I am getting good instruction."
Baca was chosen to go to the prestigious Specialty Equipment Manufacturers Association Convention in Las Vegas, Nev., from Oct. 29 to Nov. 2.
"I've always wanted to go to SEMA," says Baca. "I want to learn more about the industry and SEMA is another avenue for me to do this."
Baca was originally going to study at CNM in Albuquerque. When things didn't work out there, Baca ended up at Luna.
"Unless you come to school here, you will never know how good Luna is," he says. "Anywhere you go, there will be people that like the college or dislike it. I'm one of the people that like it. Many high school graduates want to leave Las Vegas to go do other things. They don't know what they're missing here at Luna. Luna may not have a lot of instructors in individual programs, but they make it work."