Luna softball sweeps
March 5 2019
---
By Dave Kavanaugh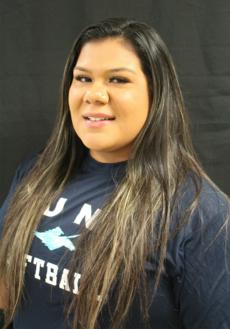 Freshman pitcher Sabrynn Chacon (Las Cruces, N.M.) unfurled a shutout in Luna Community College's 6-0 triumph over visiting Texas-Rio Grande Valley on Saturday, March 2, part of a sweep for the Rough Rider softball team.
Luna beat Air Force Academy's junior varsity 9-4 in the second game of the day.
Due to extreme cold conditions – with a wind chill that dipped to near zero – Sunday's softball games were cancelled.
Chacon (1-2) struck out nine and limited Texas-Rio Grande Valley to one hit and two walks in seven innings of work in Saturday's opener. It was a standout effort in the pitching circle (and on defense) for a Luna squad looking to gain some traction before the start of the conference schedule.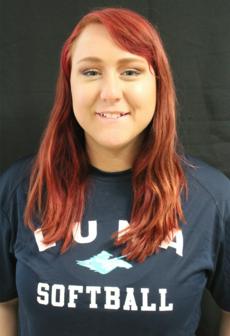 Rebekka Montgomery (2 for 3, one double, two runs batted in) and Dyani Cummings-Lani (2 of 3, one RBI) paced the Rough Riders at the plate. Brittany White drove in two runs, and Chacon helped her own cause by scoring twice and driving in a run.
In fact, Chacon scored the first two runs of the game. The first came on a Cummings-Lani single in the bottom of the second inning; the second on a double to right by Montgomery in the fourth.
Luna put the game out of reach in the fifth. White sliced a shot up the middle, enabling Ashlea Ortega and Jackie Delgado to score. Then Chacon singled to bring Taylor Quintana home. Montgomery then singled to drive in White for a 6-0 spread.
Game two got off to a shakier start for Luna. Air Force pinned three quick runs on the board in its first time up to bat, and it was 3-0 going into the bottom of the third.
That's when the Rough Riders seized control with a six-run outburst. A dropped fly ball enabled Quintana to reach and score Ortega. Then Olyvia Dominguez doubled to plate two runs. Montgomery continued a superb day by doubling to score Dominguez for the go-ahead run. Taylor Sandoval bunted to score Montgomery, and Andrea Hernandez singled home Cummings-Lani for a 6-3 lead.
Luna added to its lead on a two-RBI double by Montgomery in the fourth, and Sandoval hustled home for a run after a miscue by Air Force's catcher in the fifth.
Air Force managed one run in the top of the seventh.
Cummings-Lani evened her pitching record to 2-2 after allowing three runs on seven hits and three walks with four strikeouts.
Luna (4-9 this season under head coach Mark Mattox) is slated to host Trinidad State Junior College for a doubleheader at noon Sunday at West Las Vegas field, concluding the homestand.
---
Braving frigid temperatures, Luna baseball battled mighty Western Oklahoma State in a three-game series over the weekend at Brandt Park.
The visiting Pioneers came away with three wins, 14-9, 9-0 and 14-4, improving to 14-2 overall and 9-2 on the road.
Western Oklahoma State forced its host to play catch-up from the get-go Saturday, going ahead 8-0 through an inning and a half, and added to its NJCAA Division II-leading hit total with 18 knocks.
Junior Martina homered twice and finished the game 4 for 4 with five RBI to lead the Pioneers. Luna's Nick Rodriguez (3 for 4 with a double, two runs), Trent Dewyer (2 of 4, three RBI), Sam Creed and A.J. Knowles (two hits apiece) led the Rough Riders. Reliever Seth Olguin was tagged with the pitching loss despite a five-strikeout effort.
Rodriguez came up with two hits, including a double, and Justin Miller had a triple in game two, but the Riders were held to five hits as a team in a shutout that lasted five innings.
Western Oklahoma's Caleb Upshaw homered to support a winning start for Jose Torrealba, who struck out four LCC batters and allowed four hits with no walks in four frames.
On Sunday, it was Luna that got a head start, plating three runs for a 3-0 lead through the first inning. But the visitors tied it in the top of the second, then pulled ahead with another three-run frame in the fourth. Still, it stayed close until the sixth, when the Pioneers slugged out seven insurance runs. Dan Pruitt accounted for five RBI and a 4-for-4 performance for Western Oklahoma State. Rodriguez and Adrian Munoz had two hits apiece for Luna, while Manny Cachora had a triple and two RBI.
Marcos Cuenca struck out nine for the visitors; Cooper Randall fanned two in defeat for LCC.
The Pioneers, who were national champions in 2011, were ranked No. 18 in the nation in the preseason.
Luna opens conference play this week with a series at Midland College in Midland, Texas.