Two kinds of wins for Riders softball
March 12 2019
---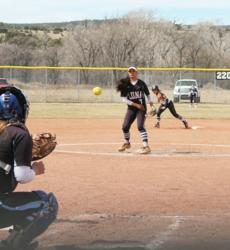 By Dave Kavanaugh
Luna Community College softball bounced back from a pair of losses to Colby (Kan.) Community College on Friday to sweep Trinidad State Junior College in a high-scoring twinbill on Sunday at West Las Vegas field.
It was a rewarding day for Luna, which had lost its two previous meetings with TSJC on Feb. 25 in Trinidad, Colo.
Luna trailed only briefly in Sunday's game one before blowing the game open with a nine-run second inning to grab an 11-3 advantage. A three-run homer by Taylor Quintana (sophomore, El Paso, Texas) highlighted the pivotal inning.
The Trojans pulled within 13-10 through five frames, but the home team punctuated the eventual win with five runs, including back-to-back two-run doubles by Rebekka Montgomery and Aiyana Gonzales in the bottom of the sixth.
Jackie Delgado, Brittany White and Gonzales all had three hits apiece. Montgomery and Quintana logged four RBI each, and Gonzales drove in three runs total to help Dyani Cummings-Lani (freshman, Waimanalo, Hawaii) secure the pitching win. Sabrynn Chacon was credited with the save.
White's RBI double to center scored Quintana for the walk-off winning run in game two. White is a sophomore from Bernalillo, N.M.
Luna had trailed 4-3 going into the last set of at-bats before Quintana drove in Ashlea Ortega for the tying run. That set up White for her game-winning double.
Chacon collected the pitching victory, striking out six and scattering seven hits and two walks over seven innings. Quintana, White, Gonzales and Andrea Hernandez had two hits apiece. Gonzales scored twice after drilling two triples.
With the back-to-back wins, head coach Mark Mattox's Luna club is now 6-11 overall.
On Friday, Luna lost 4-2 and 15-5 against visiting Colby.
Chacon threw nine strikeouts and Ortega and Olyvia Dominguez two hits each in game one, as the Riders tried in vain to answer a 3-0 deficit.
Game two was tied 3-3 going into the third, but the Trojans' 11-run outburst in the top of the fourth changed the complexion of the contest. Luna's Hernandez (sophomore, El Paso, Texas) hit a two-run homer, with Gonzales and Ortega getting three hits each.
The Rough Riders' next games will be a doubleheader at Otero Junior College Thursday in La Junta, Colo.
Luna Community College led in both games of its Saturday doubleheader at Midland College before falling to the host Chaparrals 11-7 and 10-7.
Midland took the entire four-game series, which was the Western Junior College Athletic Conference opener for both schools.
Luna led 7-5 through two and a half innings in Saturday's first game before Midland rallied with six unanswered runs. The Rough Riders' Manny Cachora (sophomore, Las Cruces, N.M.) belted a home run, and Ethan Harden (freshman, Albuquerque), Seth Olguin (redshirt freshman, Carlsbad, N.M.) and Nick Rodriguez (freshman, Weatherford, Texas) each hit doubles.
Likewise, Luna jumped out to leads of 4-2 and 7-3 in the series finale, but Midland again mounted a late comeback to steal the win. Luna's Rodriguez and Dustin Sipe (freshman, Aztec, N.M.) both doubled for the Riders (3-19, 0-4).
Midland improved to 11-7 overall and 4-0 in the WJCAC.
Head coach T.C. Nusser's Rough Riders are scheduled to host Odessa College for a four-game set at Fort Marcy Park in Santa Fe this Friday and Saturday. First pitch each day is set for noon.