Luna dental assistant students showcase work
March 12 2019
---
By Dave Kavanaugh
As part of Dental Assistants Recognition Week, four Luna Community College students in the dental assistant program demonstrated clinical techniques and procedures they've learned during a special event on Friday, March 8, on campus.
Three of the students – Mariano Gallegos, Destiny Lujan and Terrilee Vasquez – showed guests video presentations of their work. A fourth, Destiny DeHerrera, made her presentation live.
The presentations highlighted a meeting of the LCC Dental Assisting Advisory Committee, which elected Gloria Wiggins into another year as chairman. Wiggins is an alumnus of the Luna dental assisting program (Class of 1985) and is a veteran of the dental health field.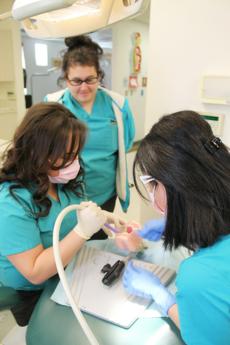 Among the other noted guests Friday were committee members Candace Maestas, another program alumnus (Class of 2008) and Lorraine Roybal, a Luna alumnus who said her history with the college dates back 50 years. New LCC President Dr. Rolando Rael, who has been the director of Luna's Allied Health Sciences department, was also on hand, joining program administrator Gloria Pacheco and faculty member Dawna Ortega-Gallegos.
March 3-9 was designated Dental Assistant Recognition Week by the American Dental Assistants Association, with its theme "Today's Dental Assistants: Polished Poised and Professional" acknowledging "the growing importance of dentistry's role in health care and the responsibilities of dental assistants," according to a news release from the ADAA.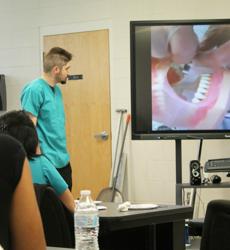 The need for dental assistants is projected to increase at a rate of 19.5 percent between 2016 and 2026, according to the Bureau of Labor Statistics. Pacheco points out that a career in dental assisting can lead to other avenues in the dental health field.
For more information on the Luna dental assistant program, you may call Pacheco at 454-2528 or visit the campus or luna.edu.